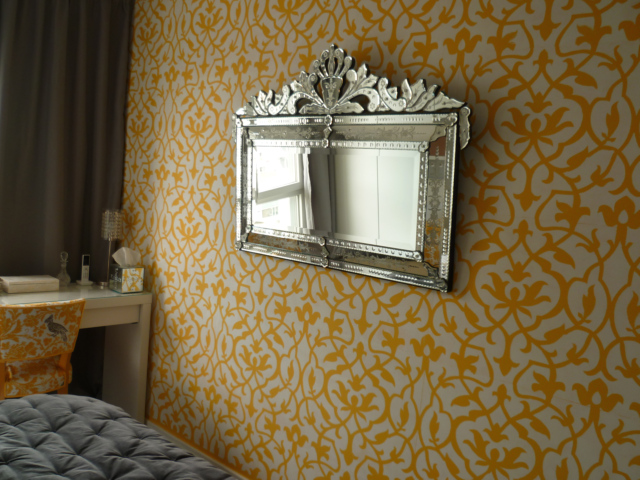 Two months ago I absolutely needed to change the disposal in my bedroom to put additional storage.
Il y a deux mois de cela j'ai dû changer l'entière disposition de ma chambre pour y mettre des rangements supplémentaires.
But now that I resolved the storage problem I have other problem...
When I changed the furniture around I had to repaint the walls too and as you can see on the picture just above now my bedroom is gray and one of the wall is yellow and white. And here is my problem : I don't like at all the final result of this wall... It took me DAYS to make this stencil!!! But now I have to change it.
Instead of repainting it again I decided to put wallpaper which is much more easy to cover this stencil. So I had to find a beautiful wallpaper that can be matched to the pale gray color I would like to keep on the rest of the room.
Here are some dreamy wallpapers I found on the web. The first one is the Fbw Japanese Floral. It reminds me of the Kate Spade Full Bloom collection pattern and you can find it in many different colors. Unfortunately it's very expensive ($145 per roll) and I'm only renting my small apartment so it would be a shame to spend all this money to leave it here one day.
Mais maintenant que ce problème de rangement est résolu, je me trouve confrontée à un nouveau problème...
Lorsque j'ai changé les meubles de place j'ai dû repeindre les murs et comme vous pouvez le voir sur la photo au-dessus ma chambre est de couleur grise et un des mur et jaune et blanc. Et voilà mon problème : je ne suis pas du tout satisfaite du rendu de ce mur... J'ai mis des JOURS à faire ce pochoir !!! Je dois donc changer ça.
Au lieu de le repeindre à nouveau j'ai décidé de mettre du papier peint ce que couvrira plus facilement le pochoir. Il me fallait trouver un papier peint qui puisse être assorti au gris pâle que je voudrais garder dans le reste de la pièce.
Voici quelques-uns des papiers peints de rêve qui m'ont plu sur le web. Le premier porte le nom de Fbw Japanese Floral. Il me rappelle le motif de la collection Full Bloom de Kate Spade et il existe en de nombreux coloris. Malheureusement il est très cher ($145 le rouleau) et je ne suis qu'en location dans mon petit appartement, ce serait donc vraiment dommage de dépenser tout cet argent pour devoir le laisser là un jour.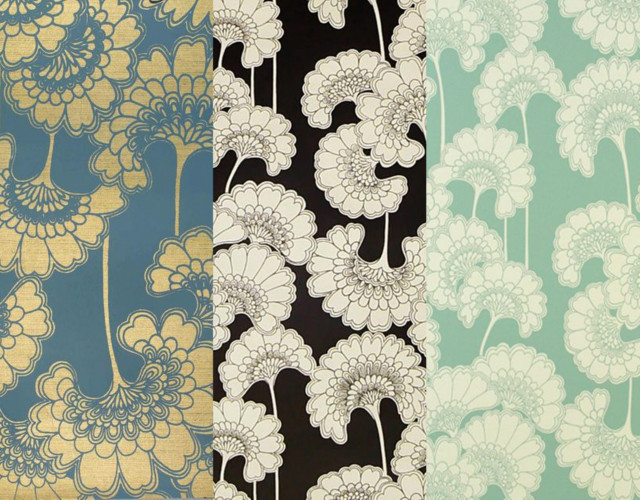 This one is the model Paradiso by Nina Campbell for Osborne & Little: I fell in love with it! Colorful and feminine at the same time it would have been perfect but France delivery isn't available and it's still a little bit expensive.
Celui-ci est le modèle Paradiso de Nina Campbell pour Osborne & Little : j'en suis tombée amoureuse ! Coloré et féminin à la fois il aurait été parfait mais pas de livraison en France possible et il reste assez cher.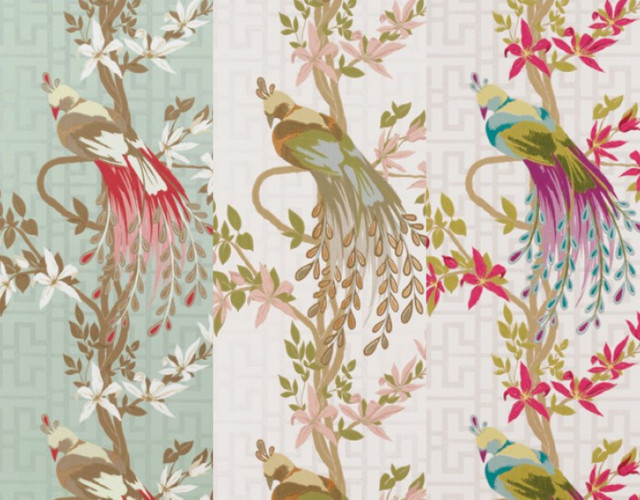 Here are some of the samples I ordered to make my choice because I couldn't make another mistake.
Voici quelques-uns des échantillons que j'ai commandés pour faire mon choix car je ne pouvais pas me permettre de me tromper à nouveau.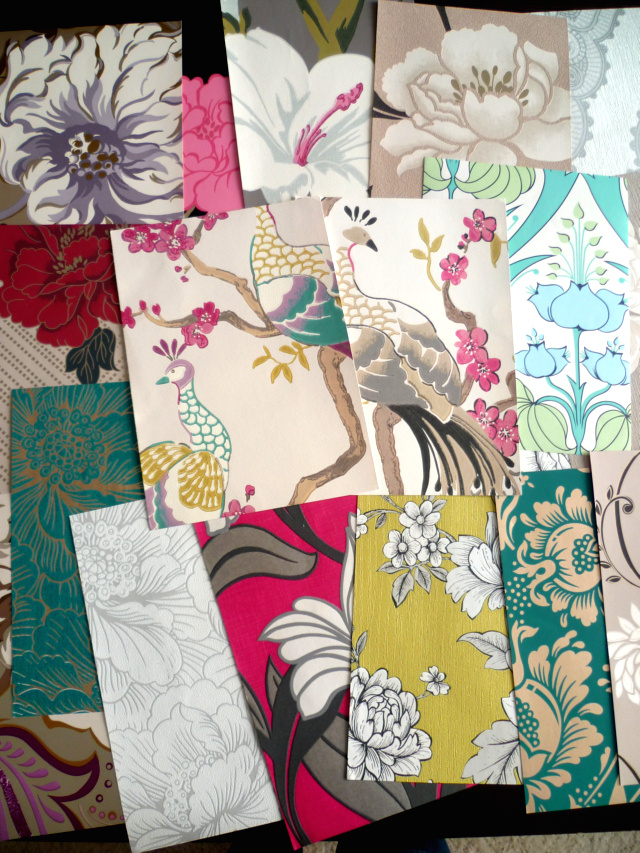 I really like the Exuberance wallpaper by Harlequin. It has a very affordable price and I love the large flower pattern.
J'aime beaucoup le papier peint Exuberance de chez Harlequin. Il a un prix très abordable et j'adore le motif à grosses fleurs.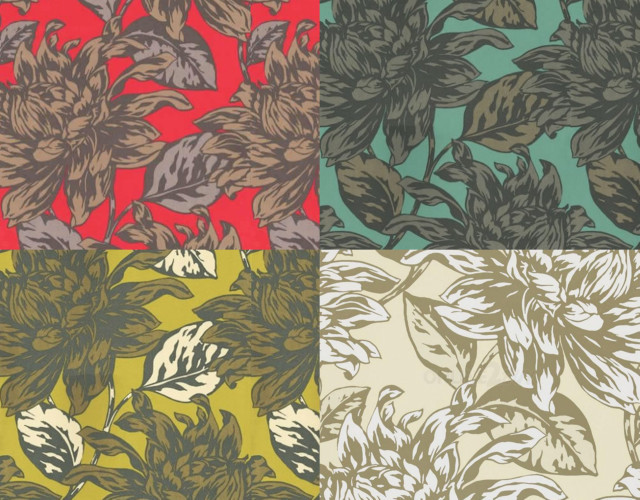 I wanted it in this hot pink like the picture below but this color wasn't available anymore!
Je le voulais en fuschia comme sur la photo ci-dessous mais cette cette couleur n'était plus disponible !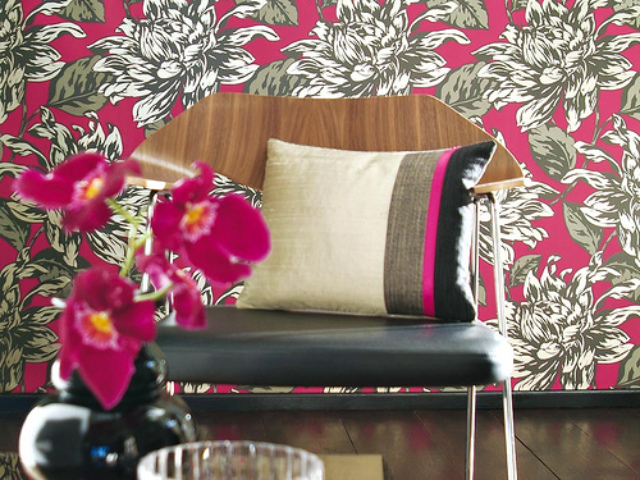 And here is the wallpaper I finally purchased from the UK just here. This is the Indira Damson by Clarke & Clarke. I think this is a good compromise especially in terms of cost. It should arrive in a few days and I can't wait to receive and put it in my wall and see how it looks like for real…
Et voici le papier peint que j'ai finalement acheté d'Angleterre juste ici. C'est le modèle Indira Damson de chez Clarke & Clarke. Je pense que c'est un bon compromis surtout au niveau du prix. Il devrait arriver d'ici quelques jours et j'ai vraiment hâte de le poser sur mon mur pour voir le rendu final…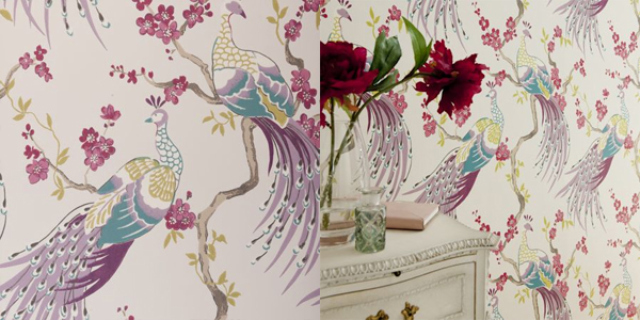 I'll show you the final of my bedroom small makeover as soon as it's done!
See you!
Je vous monterai le résultat du mini relooking de ma chambre dès que ce sera fait !
A bientôt !