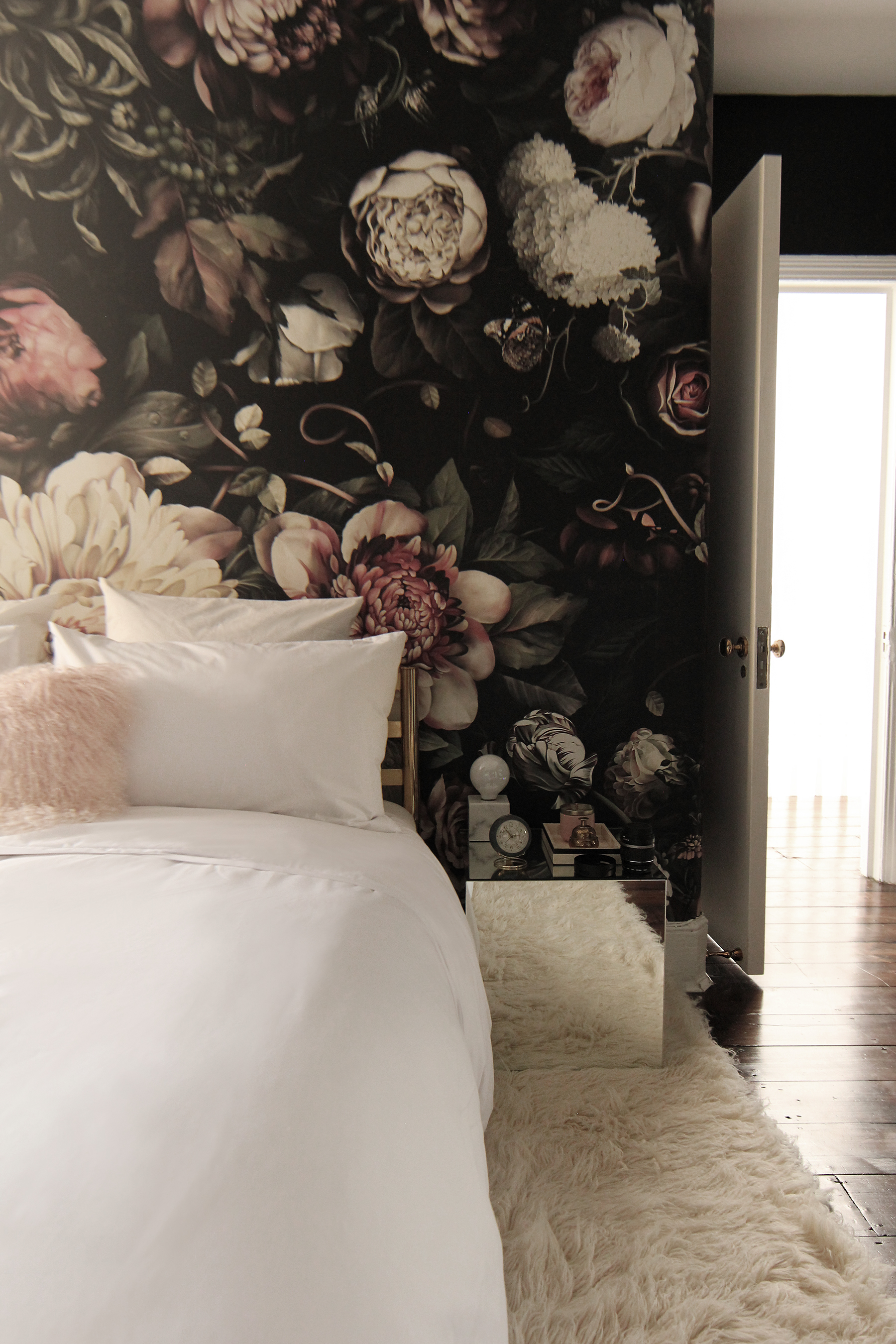 I can't believe this is the D-Day and time for the big reveal!
Je n'arrive pas à croire que c'est déjà le jour J et qu'il est temps de dévoiler les pièces !
But before that, I would like once again to thank Linda from Calling it Home for organising the One Room Challenge. This 6 weeks room makeover is such a great opportunity to discover other bloggers, share our projects and obviously to be inspired by all those talented people. It's the second time I take part in this crazy challenge and although it can be stressful I still think it's so exciting, without mentioning that it actually forces to finally finish a room. Or maybe should I say it gives you the motivation to finish a room, because sometimes you just can't make it because believe me 6 weeks fly by when you already have a busy life! By the way, if you missed an episode of this Fall 2016 ORC and want to know what happened you still can catch up ;)
Week 1 "Project Bedroom & Closet"
Week 2 "Bedroom & Closet Plan"
Week 3 "Back to Black"
Week 4 "Crazy Last Minute Changes"
Week 5 "A Wonder of a Wallpaper"
When I took part in this ORC I didn't really have any plans for my bedroom and closet but the most important thing was to organise the things around here. I wanted something dark and moody since I was obsessed with Ellie Cashman's Dark Floral wallpaper. As I already said, it was a crazy challenge with a crazy last minute change in the plan and unfortunately the rooms are not complete yet. I didn't have the time to finish some DIY projects, no time (and budget) for the closet wallpaper, I still have a few things to hang on the wall and some decorative items to buy. I would say that it's 80% complete and I am still proud of what I did so far. And this is part of the game, the challenge is over now so it was time to shoot the pictures and share with you the reveal.
Here are a few before pictures so you can remember how it started a few weeks ago.
Mais avant ça, je voudrais encore une fois remercier Linda de Calling it Home d'organiser le One Room Challenge. Cette transformation de pièce en 6 semaines est une belle opportunité de découvrir d'autre blogueuses, partager nos projets et bien évidemment d'être inspirée par toutes ces personnes talentueuses. C'est la seconde fois que je participe à ce challenge fou de 6 semaines et même si cela peut être stressant je pense tout même que c'est vraiment excitant, sans oublier le fait que cela vous force à enfin finir une pièce. Ou peut-être devrais-je dire que cela nous donne la motivation de terminer une pièce, puisqu'il peut arriver parfois que l'on échoue car croyez-moi 6 semaines ça passe très vite quand on a déjà une vie bien chargée ! Au fait, si vous avez manqué une épisode de cet ORC Automne 2016 et que vous vouliez savoir ce qui s'est passé vous pouvez toujours vous rattraper ;)
Week 1 "Project Bedroom & Closet"
Week 2 "Bedroom & Closet Plan"
Week 3 "Back to Black"
Week 4 "Crazy Last Minute Changes"
Week 5 "A Wonder of a Wallpaper"
Quand j'ai commencé cet ORC je n'avais pas de plan précis pour la chambre et le dressing mais la chose la plus importante était d'organiser les lieux. Je voulais créer une ambiance sombre car j'étais obsédée par le papier peint Dark Floral d'Ellie Cashman. Comme je l'ai déjà dit, c'était un défi fou avec un changement fou de plan à la dernière minute et malheureusement les pièces ne sont toujours pas terminées. Je n'ai pas eu le temps de finir certains de mes DIY, je n'ai pas eu le temps (et l'argent) pour le papier peint du dressing, j'ai encore des choses à accrocher aux murs et quelques objets de déco à acheter. Je dirais que c'est terminé à 80% et je suis fière de ce que j'ai pu accomplir jusqu'ici. Et cela fait partie du jeu, le défi est maintenant terminé, il était donc temps de prendre les photos et vous dévoiler la transformation.
Voici quelques photos d'avant afin que vous puissiez vous souvenir comment tout a commencé il y a quelques semaines auparavant.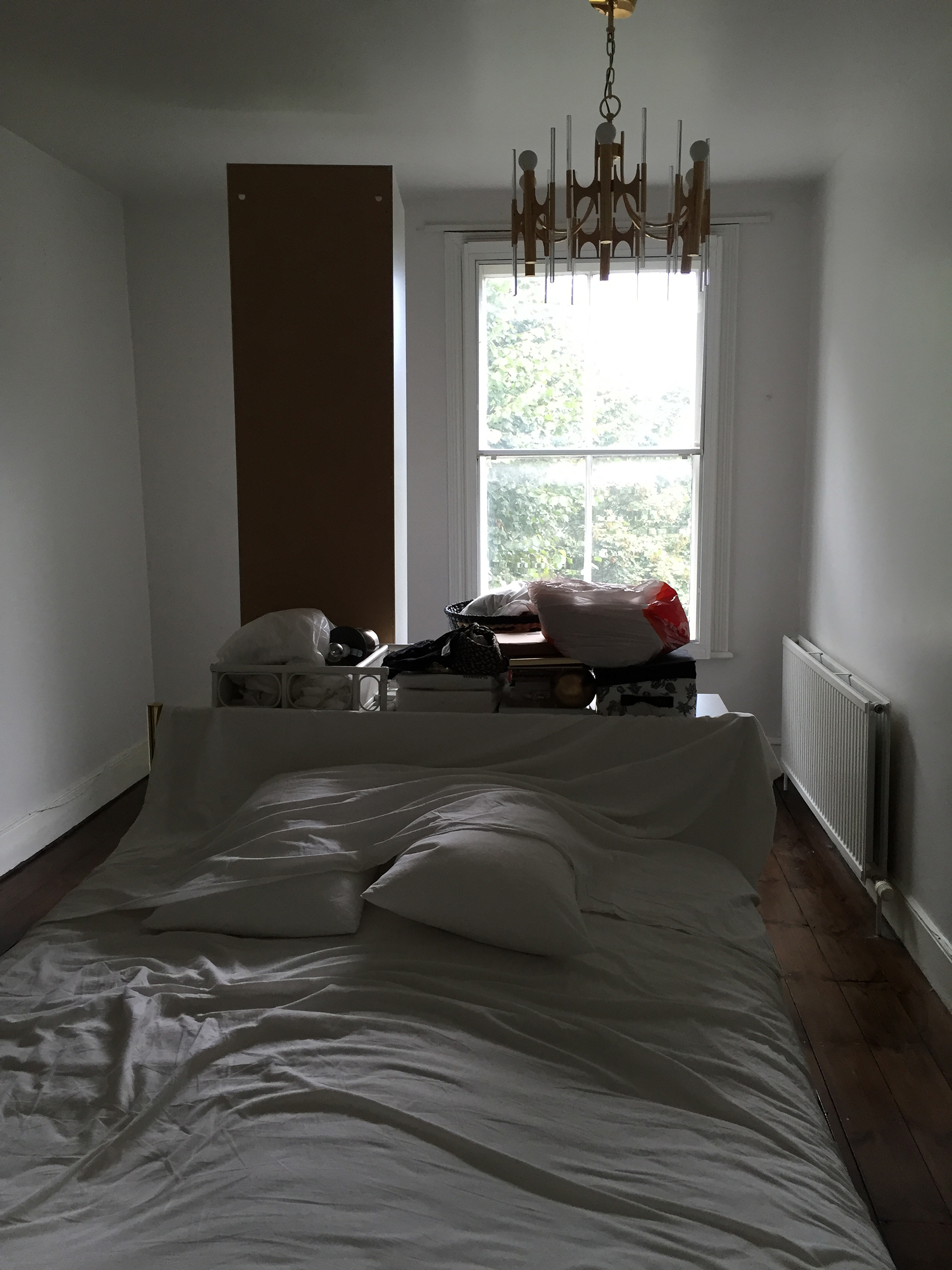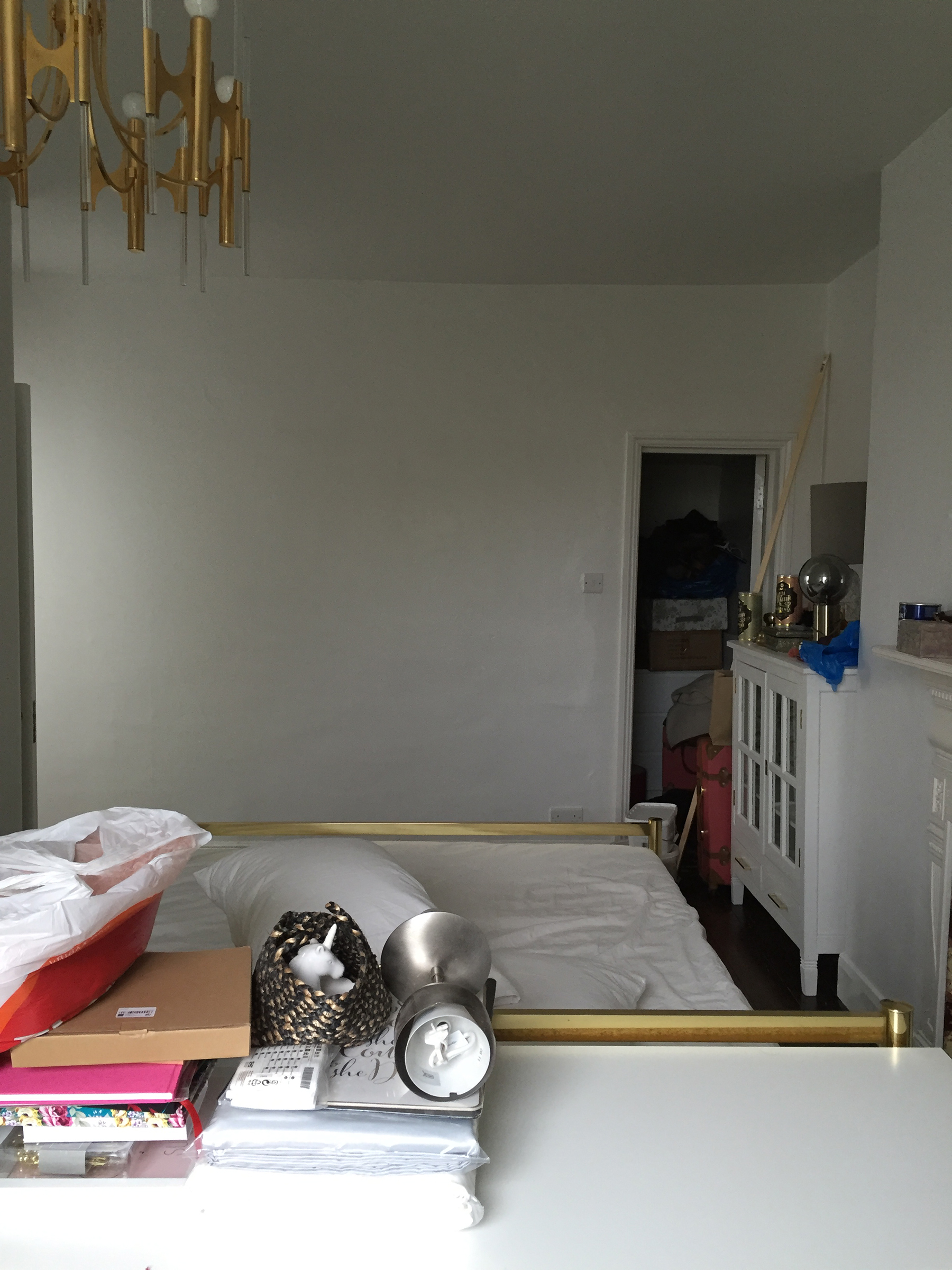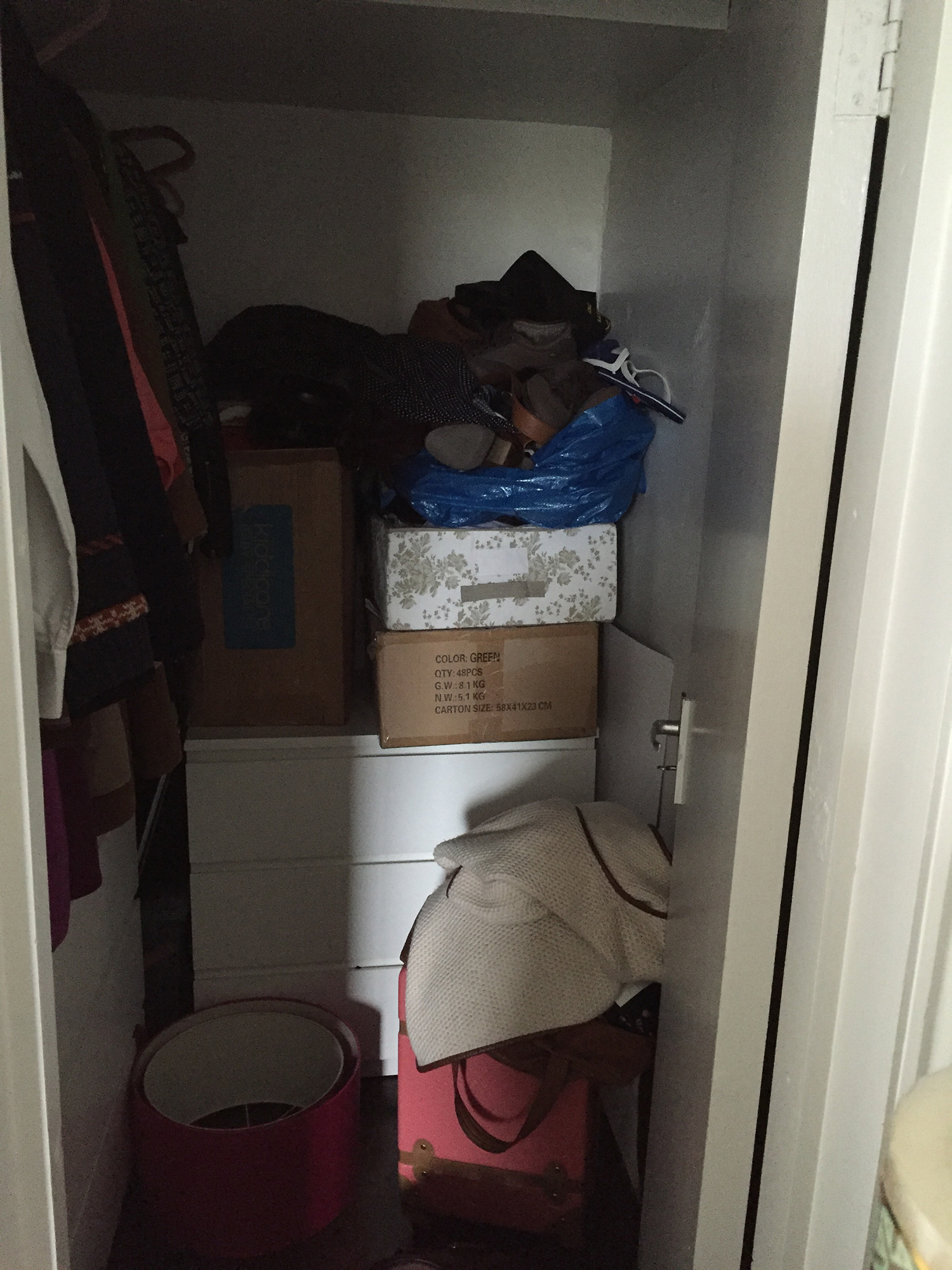 And here is the bedroom today. This is my wonderland and I love it!
Et voici la chambre aujourd'hui. C'est mon pays des merveilles et je l'adore !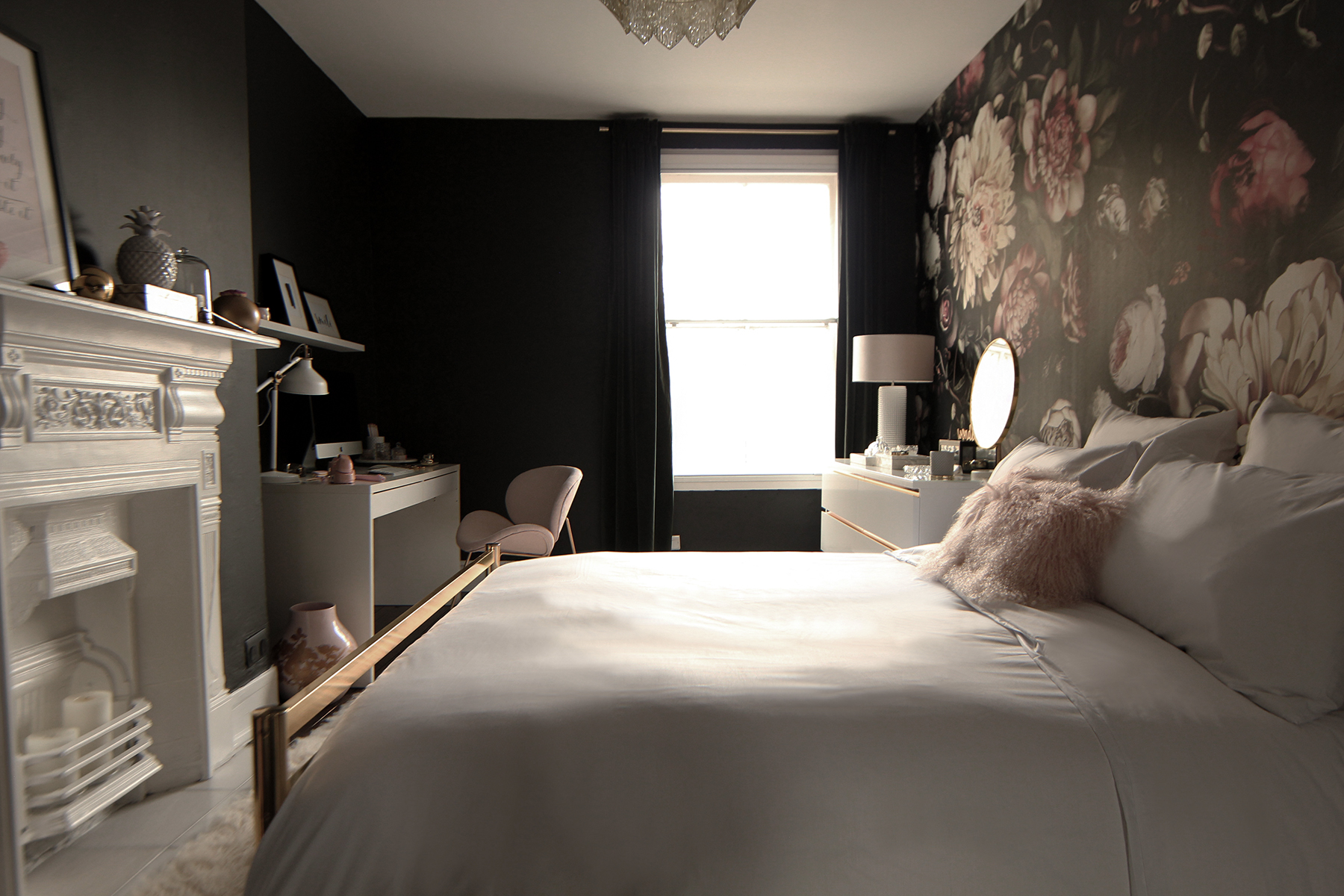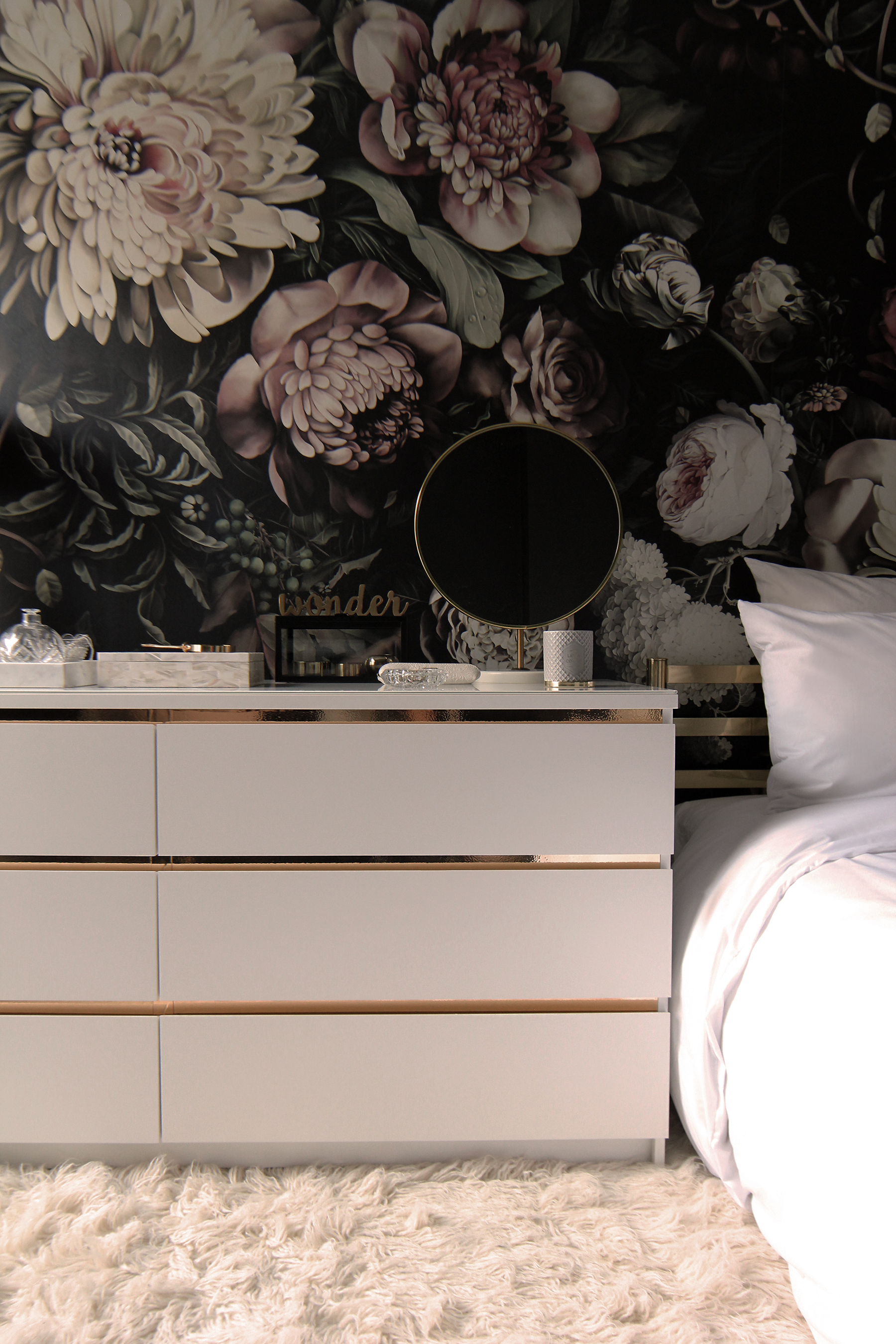 I am so happy I finally decided to go for that wonderful wallpaper! It literally makes the room.
Je suis contente d'avoir finalement décidé de prendre ce merveilleux papier peint ! C'est l'élément phare de la pièce.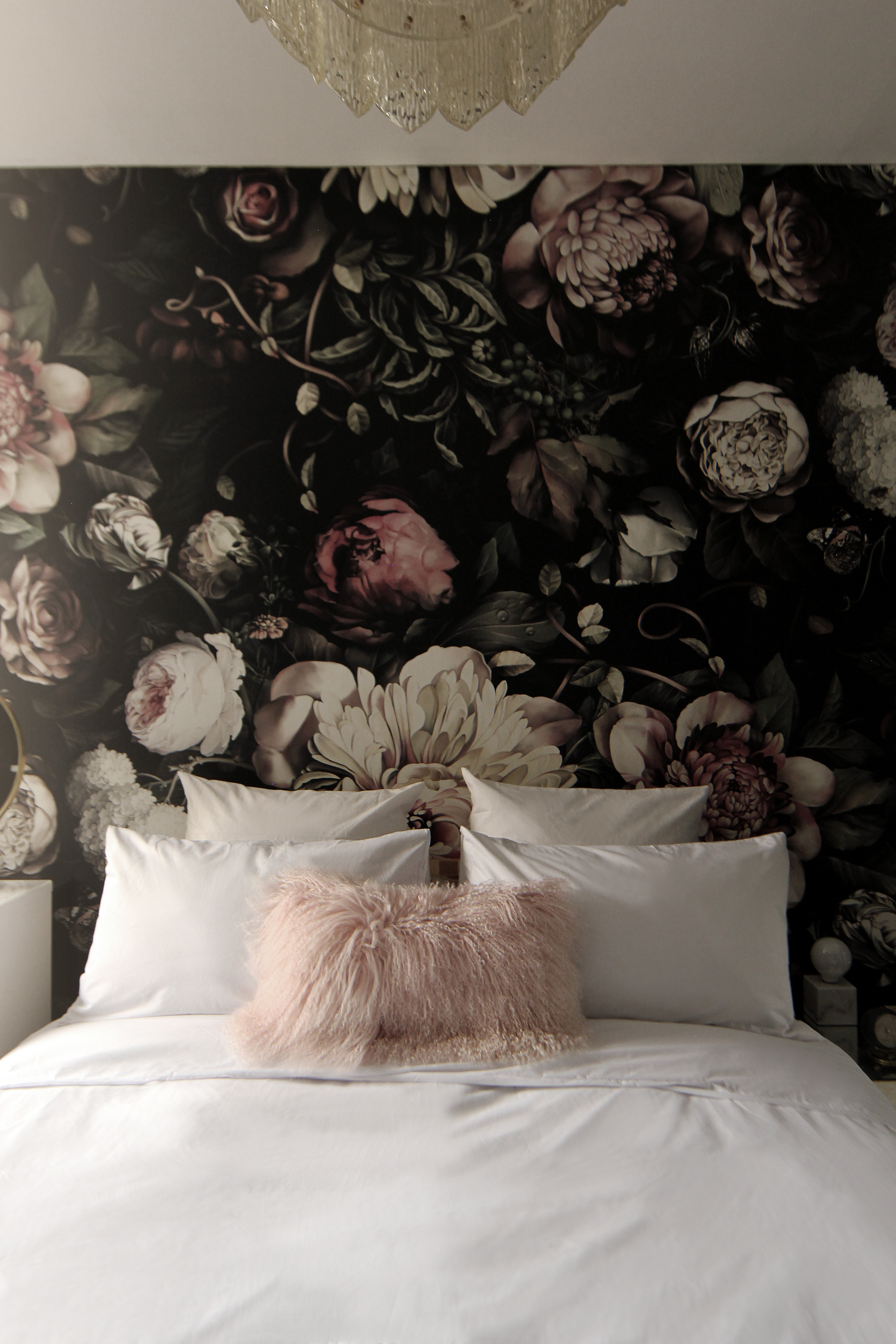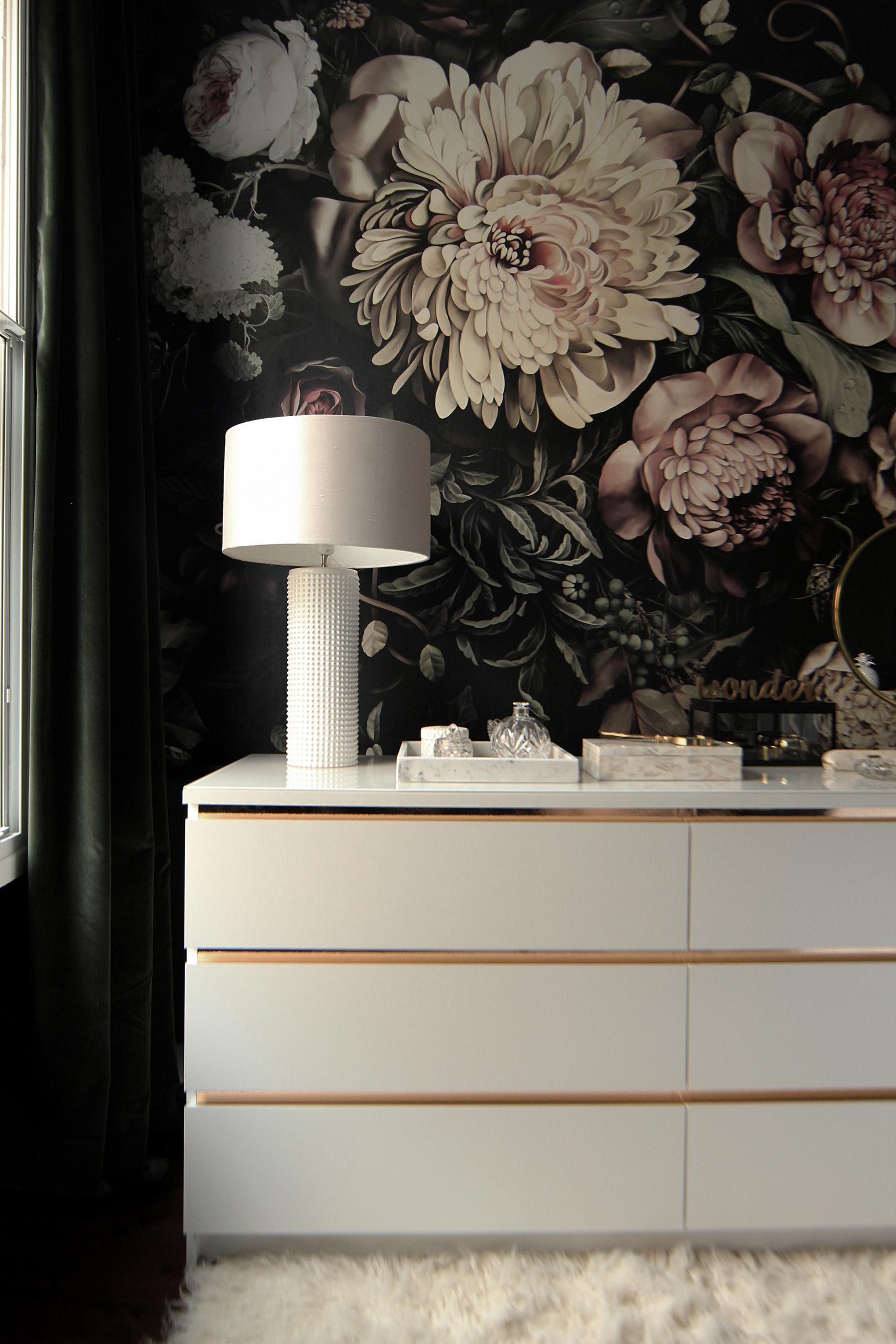 I bought this gorgeous dark green velvet fabric to make curtains. The shade is similar to the leaves on the wallpaper and it is so soft and thick, perfect for winter. And if you noticed, between the chest of drawers and the curtains there should be a ugly radiator. But it's completely invisible thanks to the DIY I showed last week!
J'ai acheté ce superbe tissu en velours vert foncé pour en faire des rideaux. Le ton est semblable à celui des feuilles du papier peint et il est si doux et épais, parfait pour l'hiver. Et si vous avez remarqué, entre la commode et les rideaux il devrait y avoir un radiateur assez laid. Mais il est totalement invisible grâce au DIY que je vous ai montré la semaine dernière !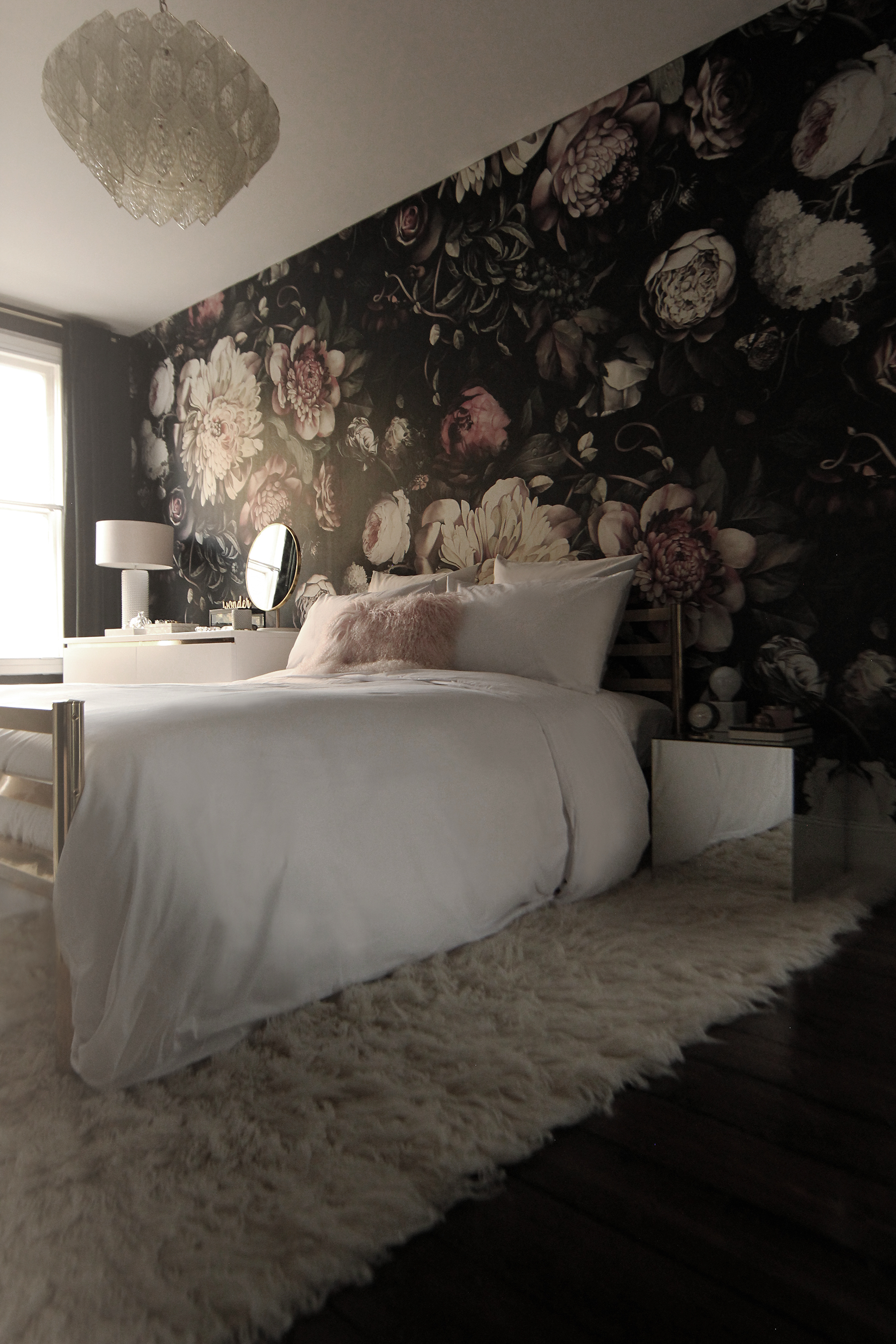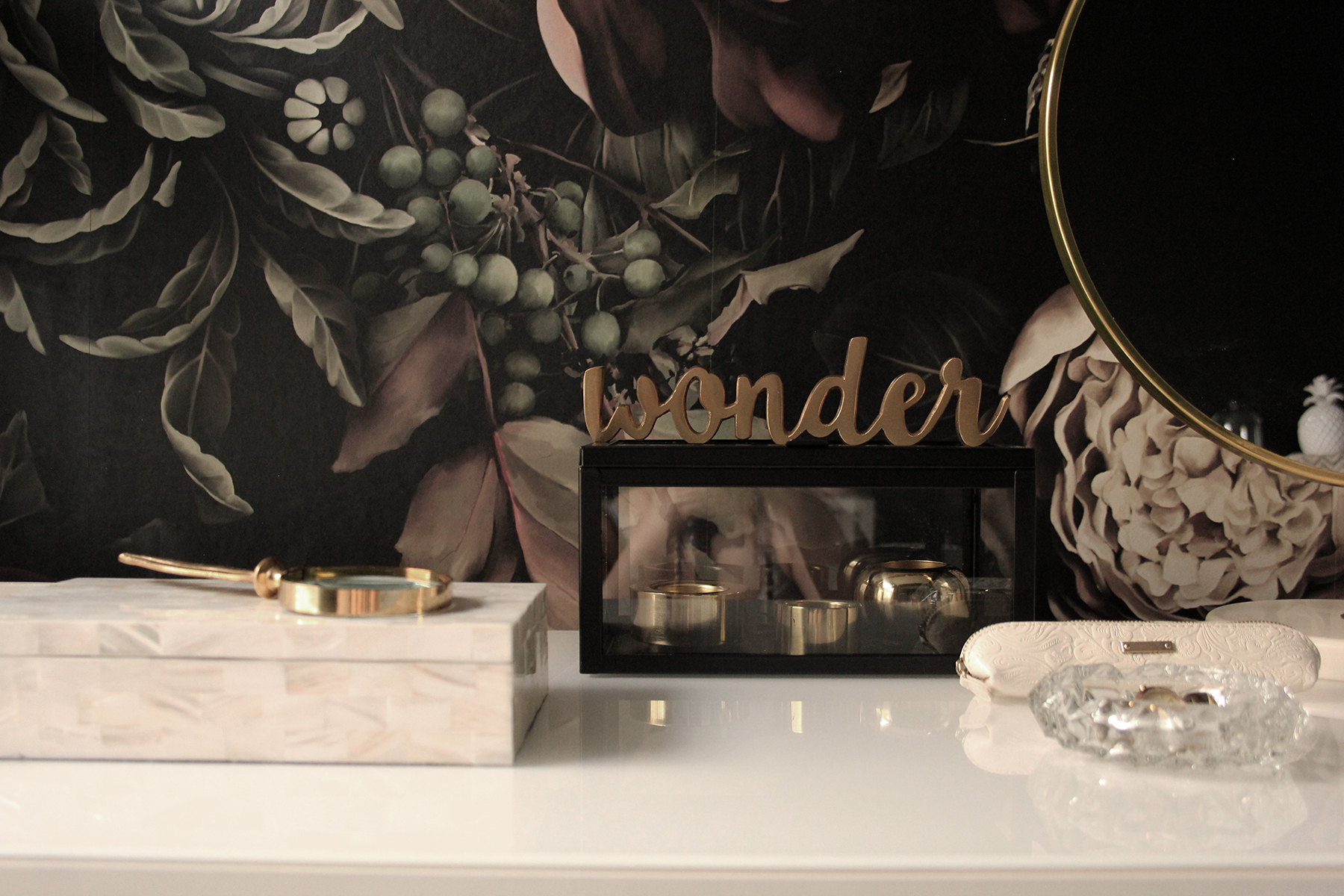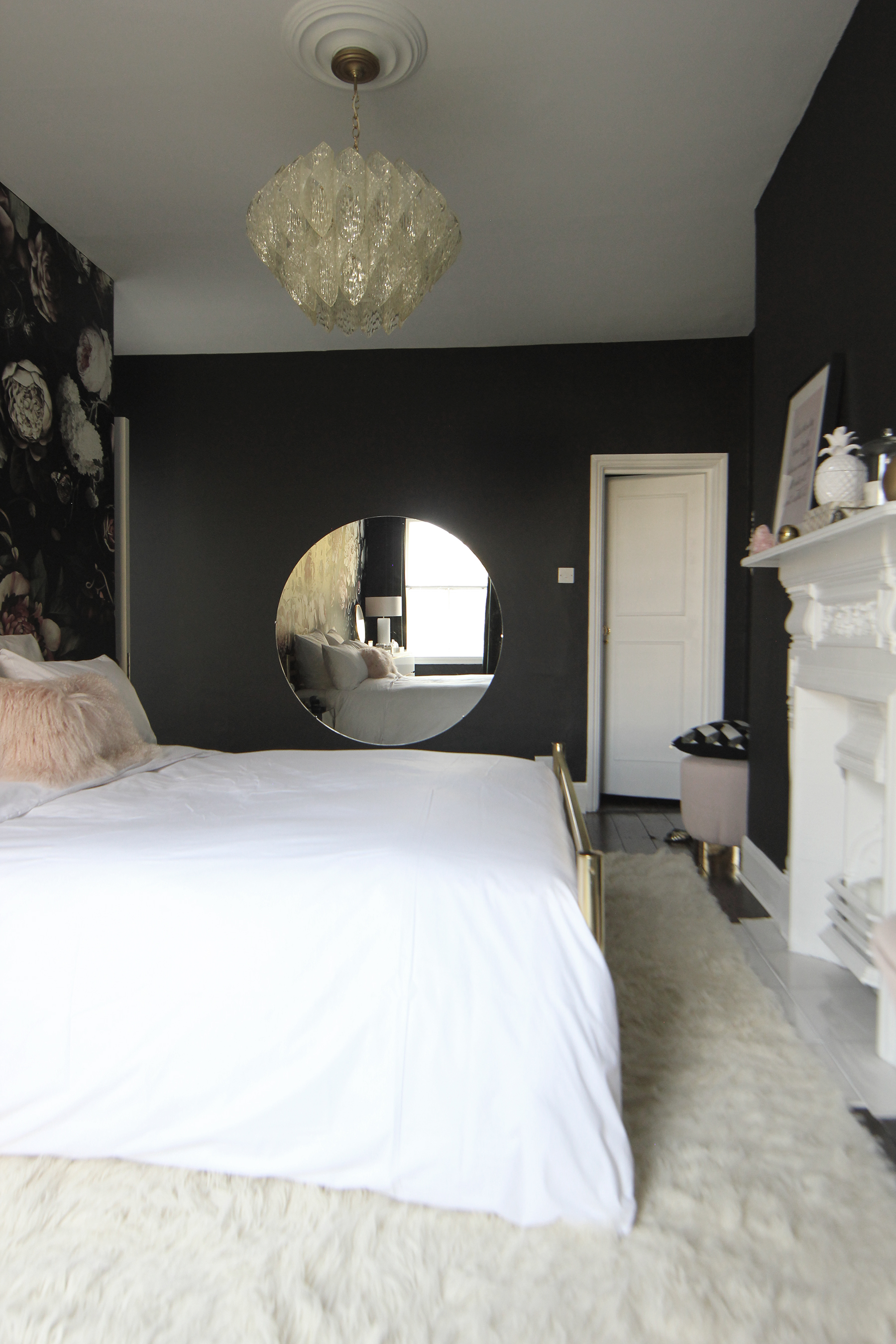 I was planning to put a round large mirror above the chest of drawers but now that I have this beautiful wallpaper I didn't want to hide it or ruin it with holes. So I decided to hang my old oversized round mirror on another wall instead.
J'avais prévu de mettre un grand miroir rond au-dessus de la commode mais maintenant que j'ai ce beau papier peint je ne voulais pas le cacher ou l'abîmer avec des trous. Alors à la place j'ai décidé de mettre mon ancien très grand miroir rond sur un autre mur.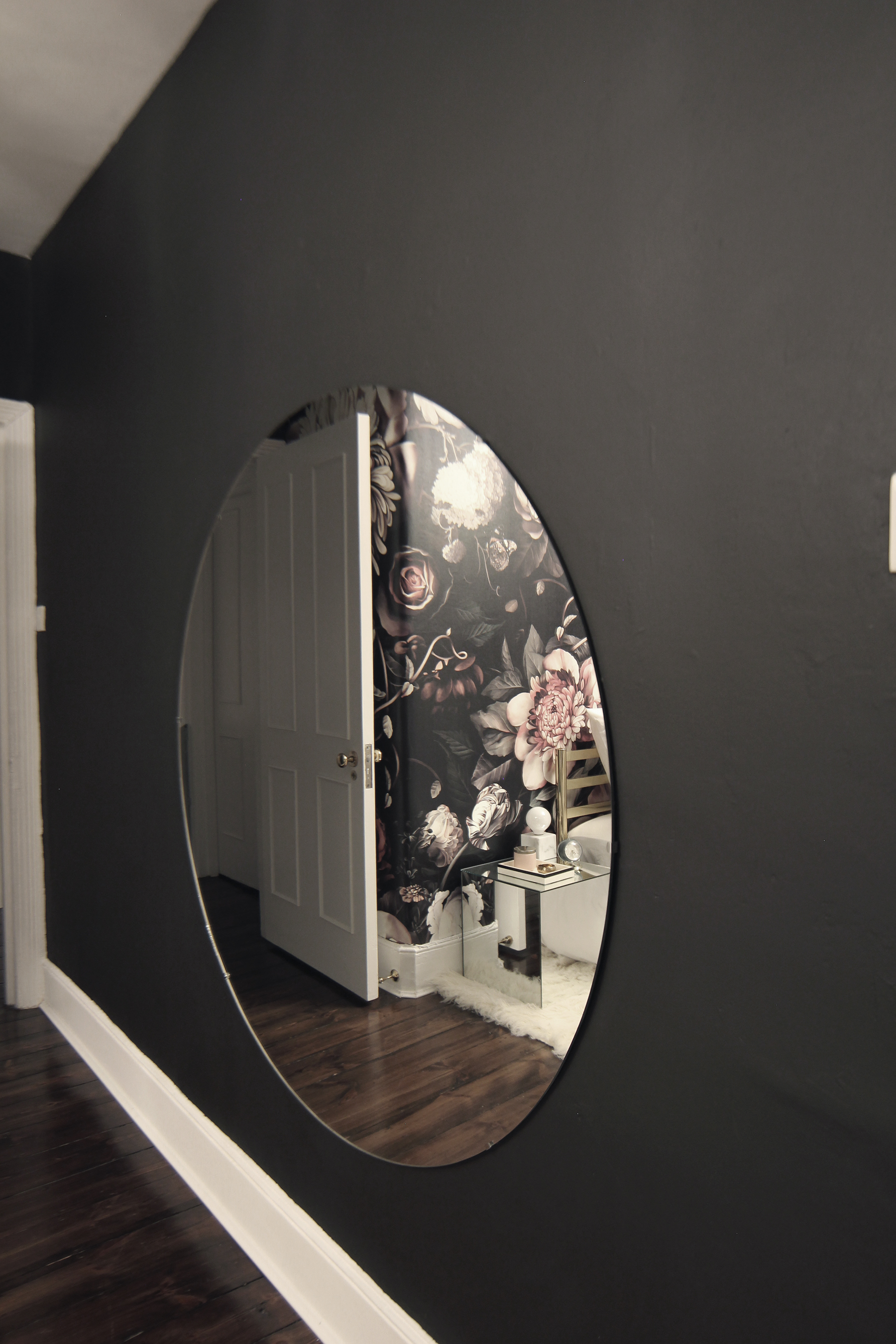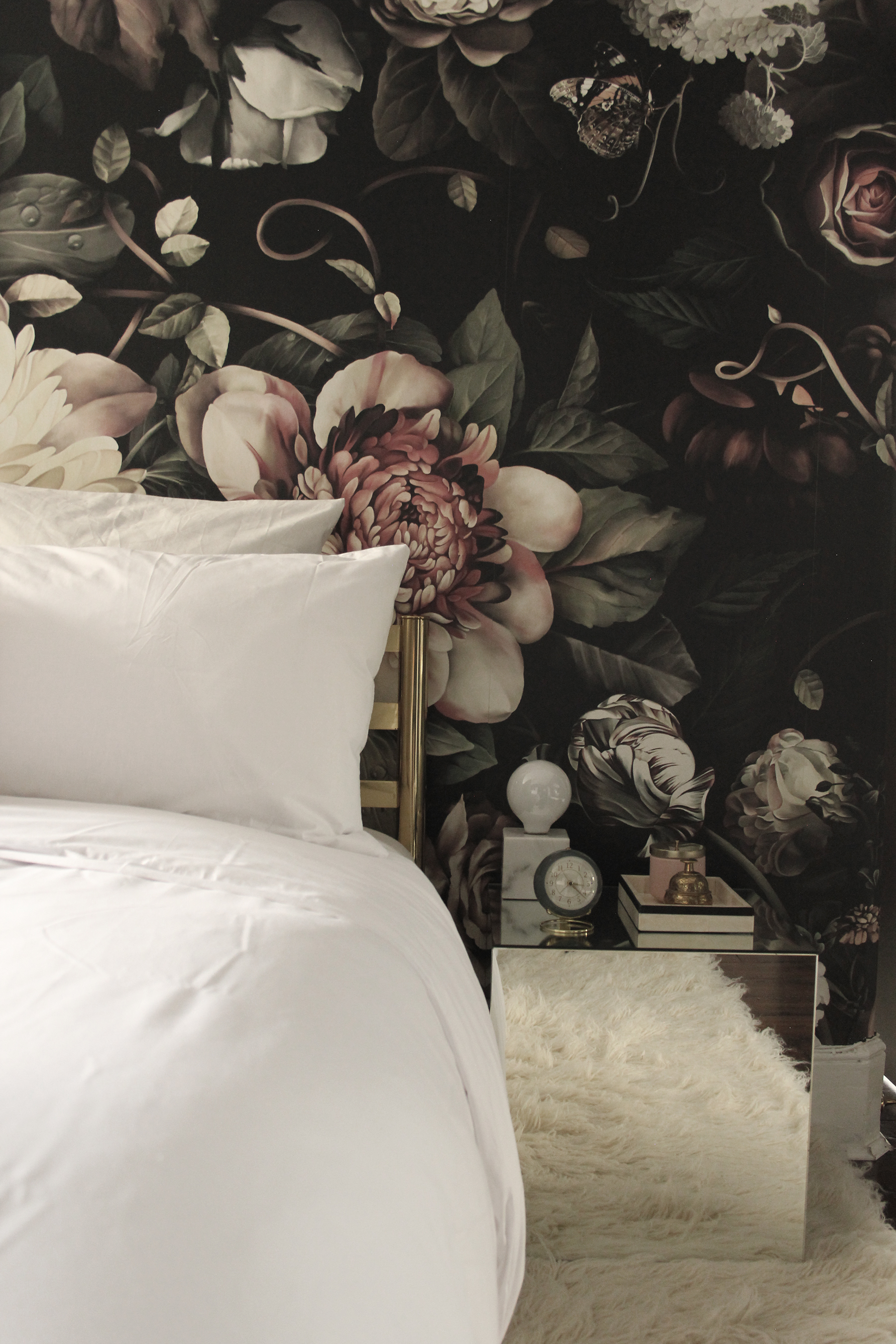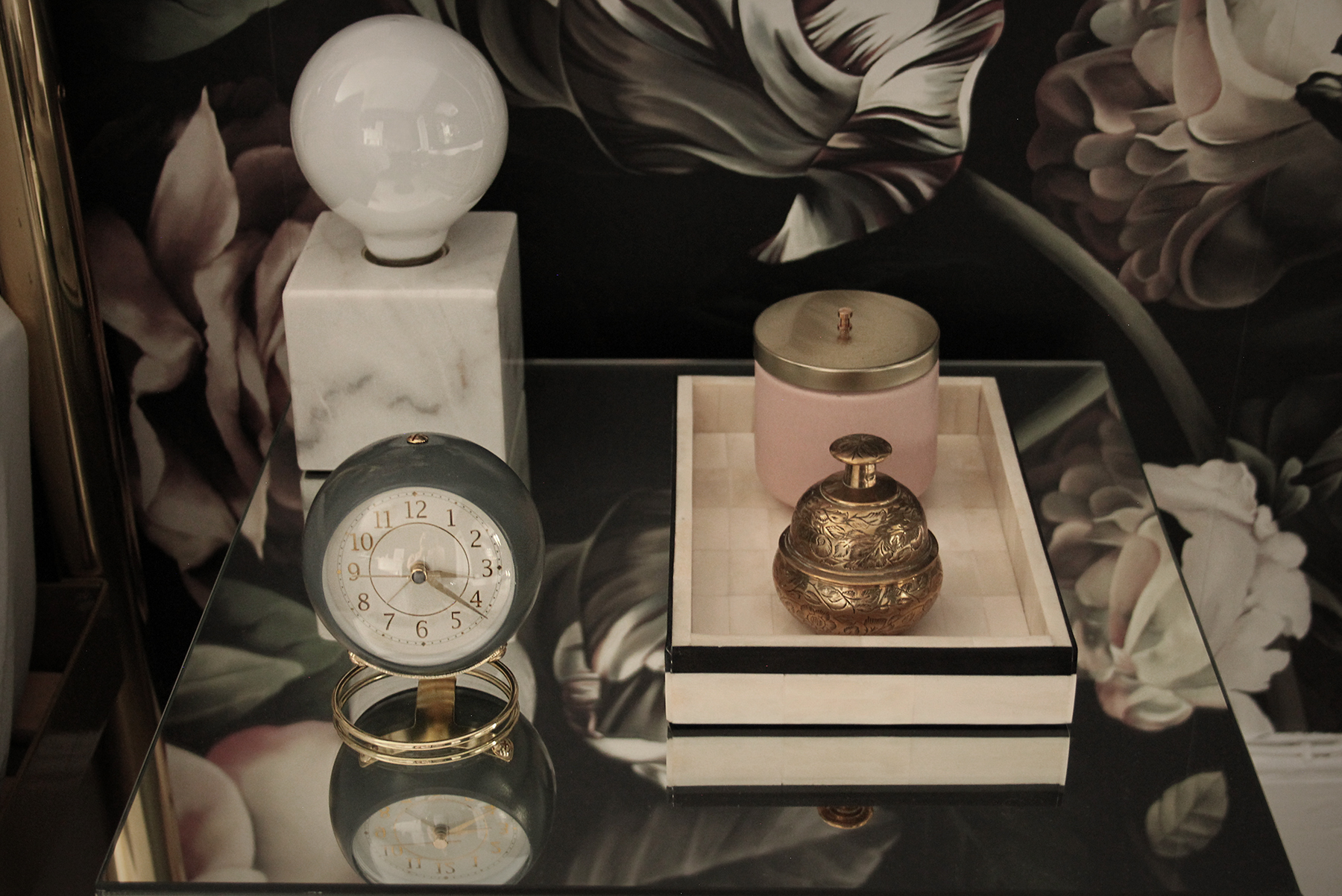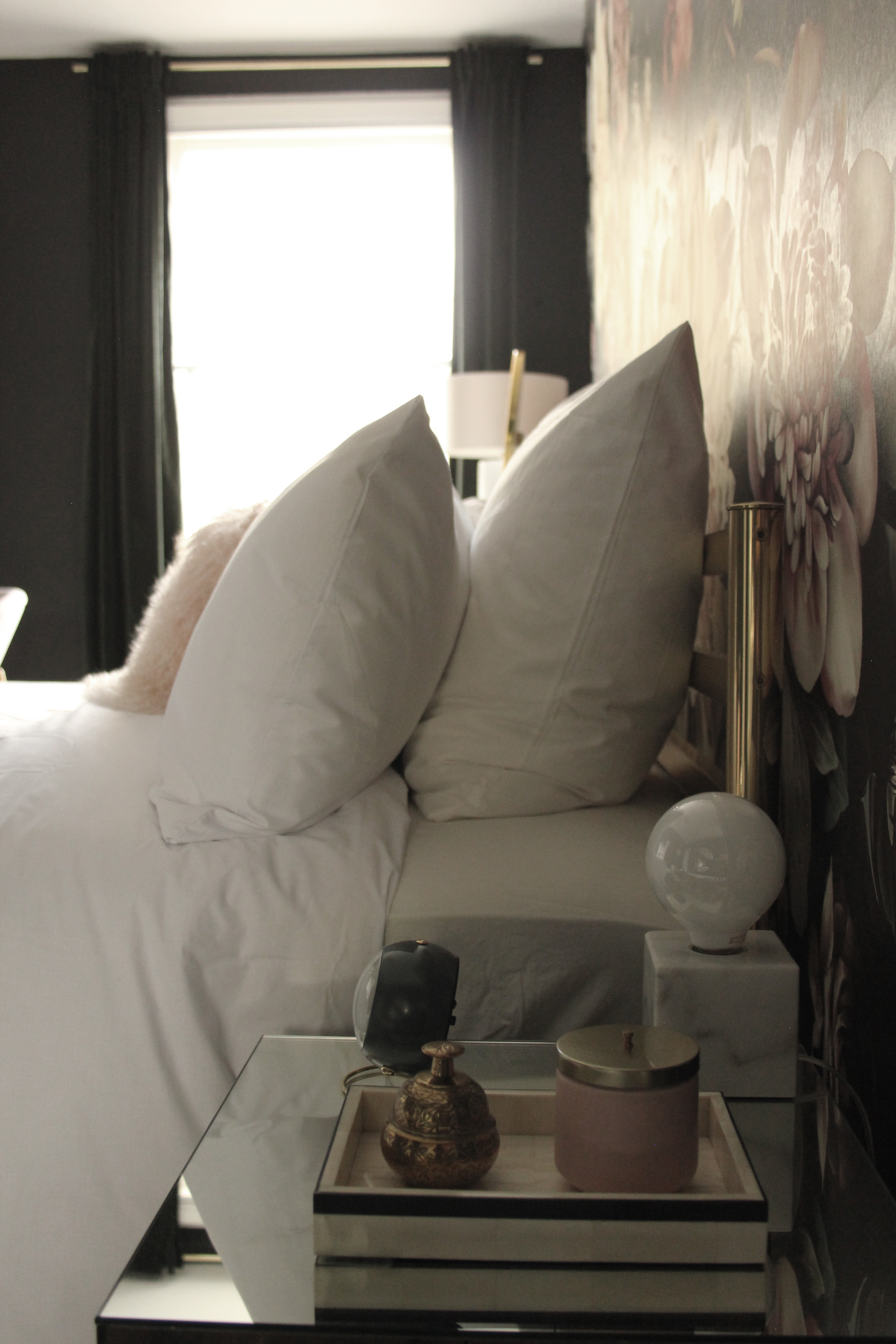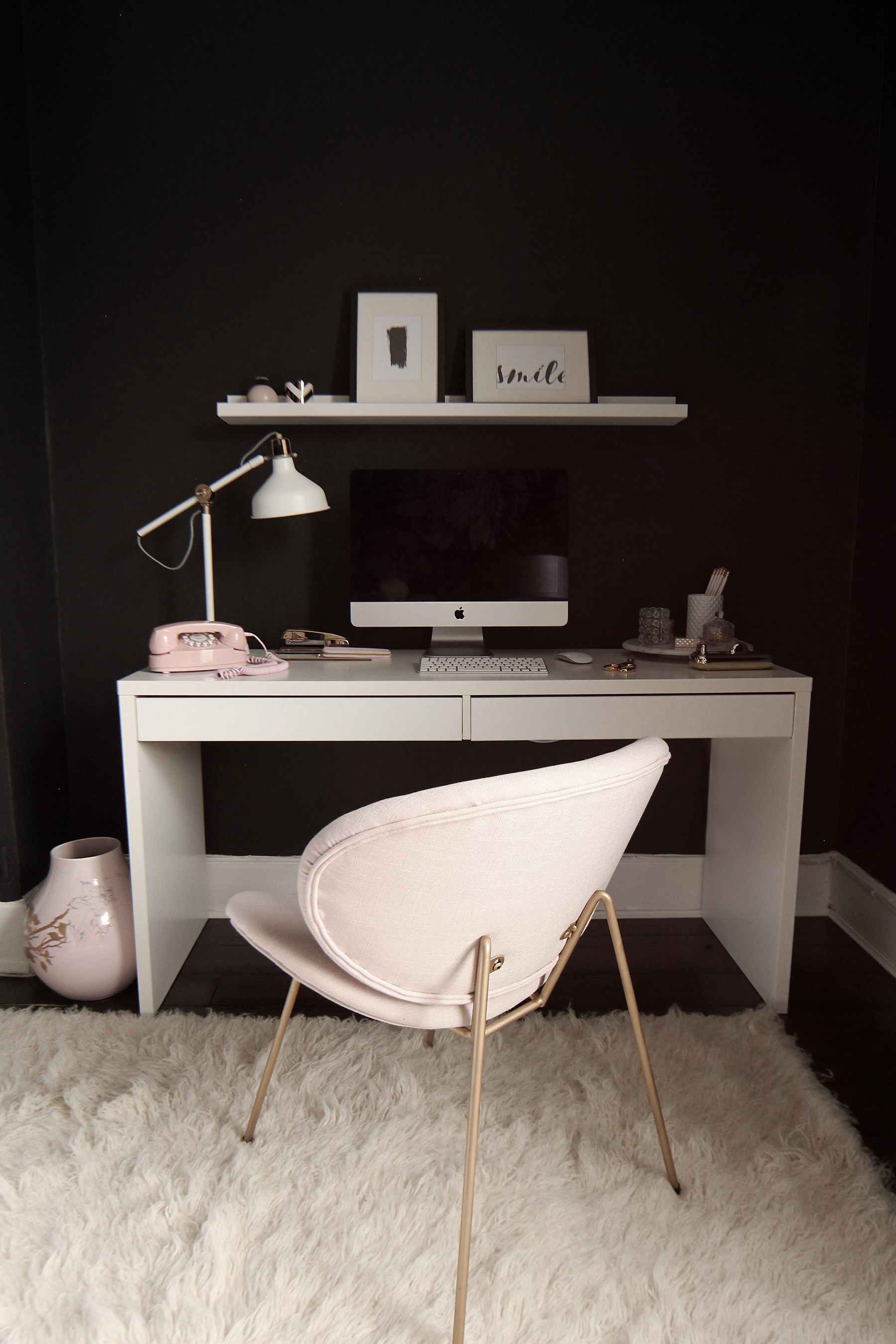 Here is my home office space. So glad I finally have a comfortable space to work on the blog.
Voici mon espace bureau. Ravie d'avoir enfin un espace de travail confortable pour travailler sur le blog.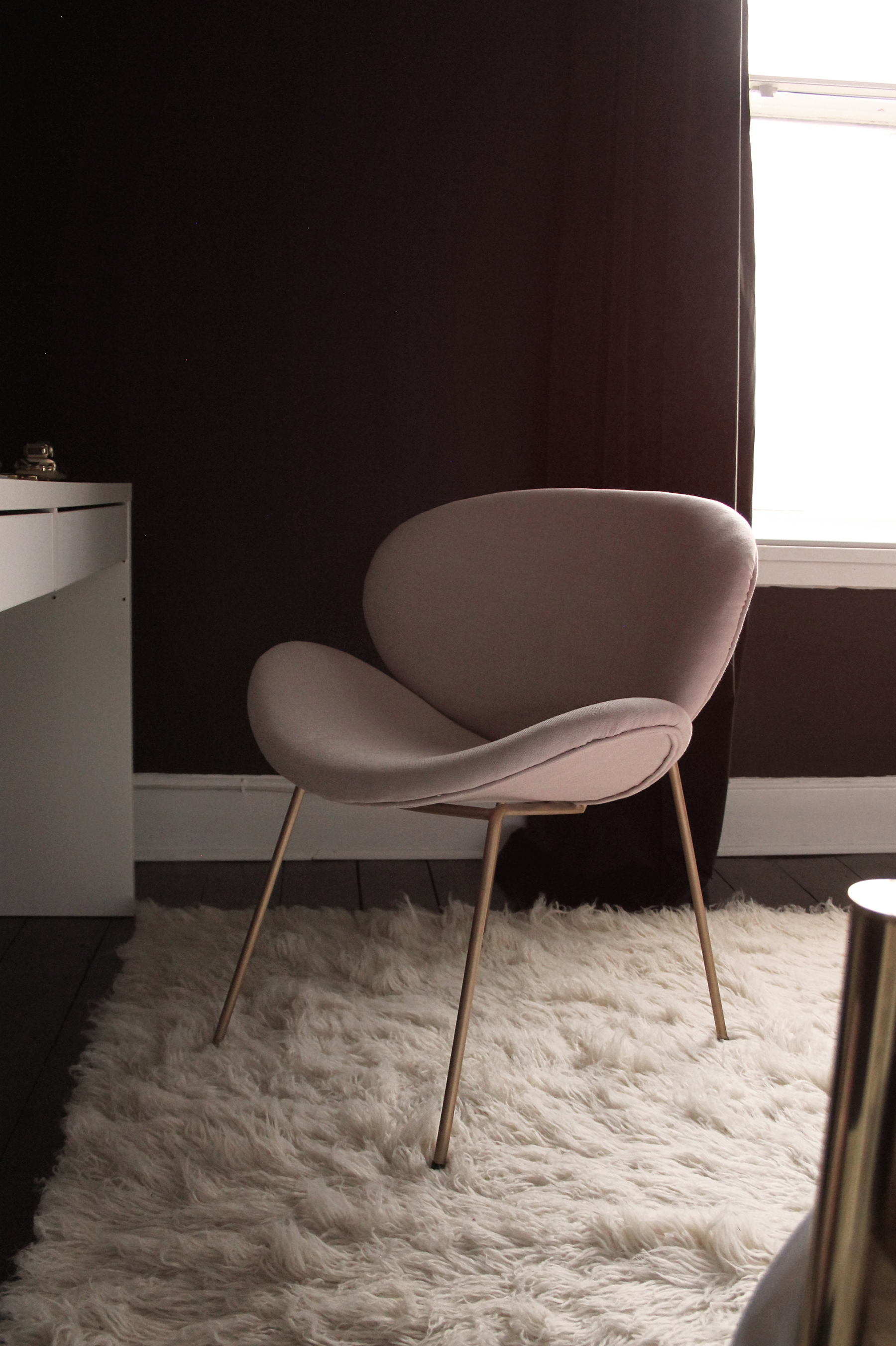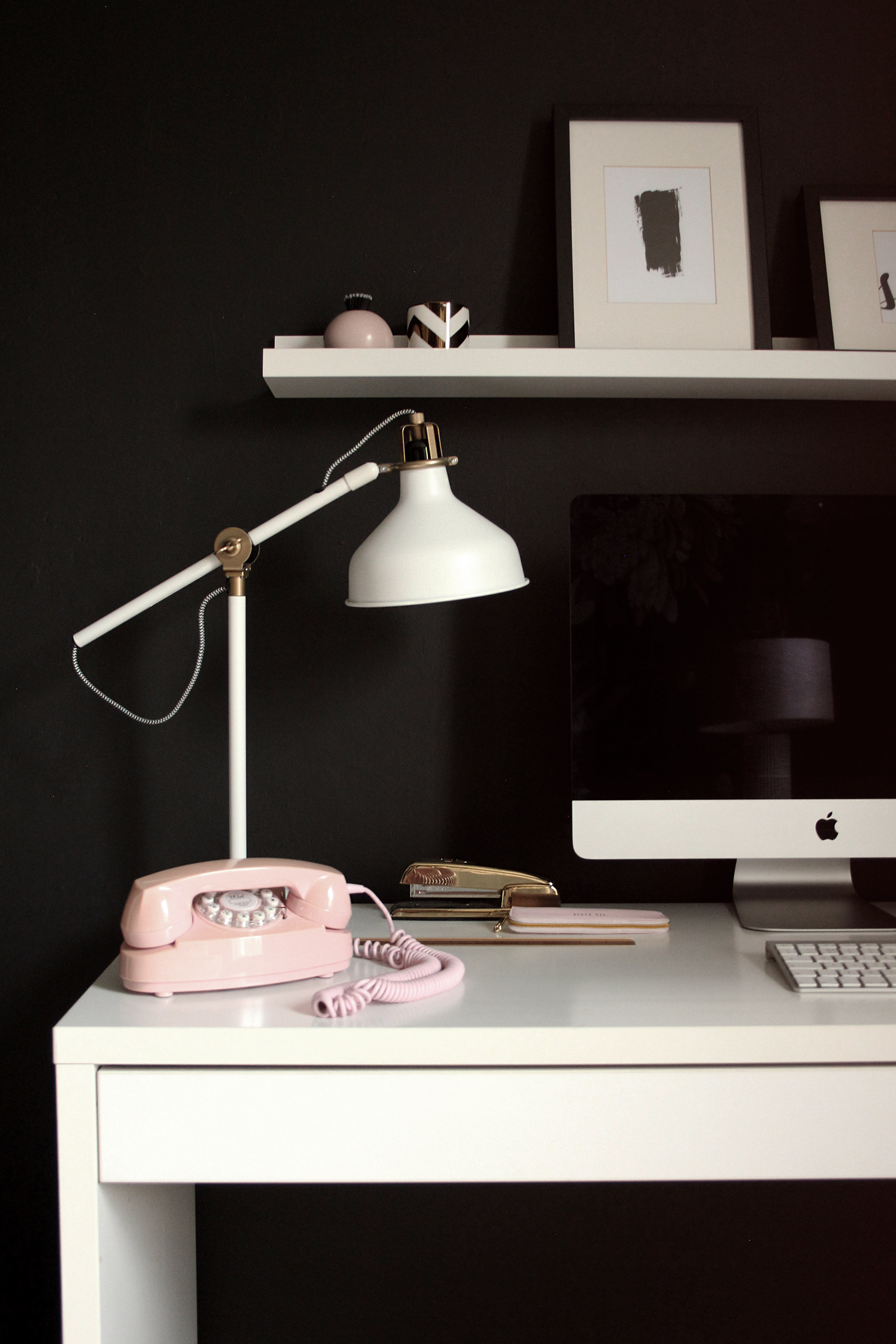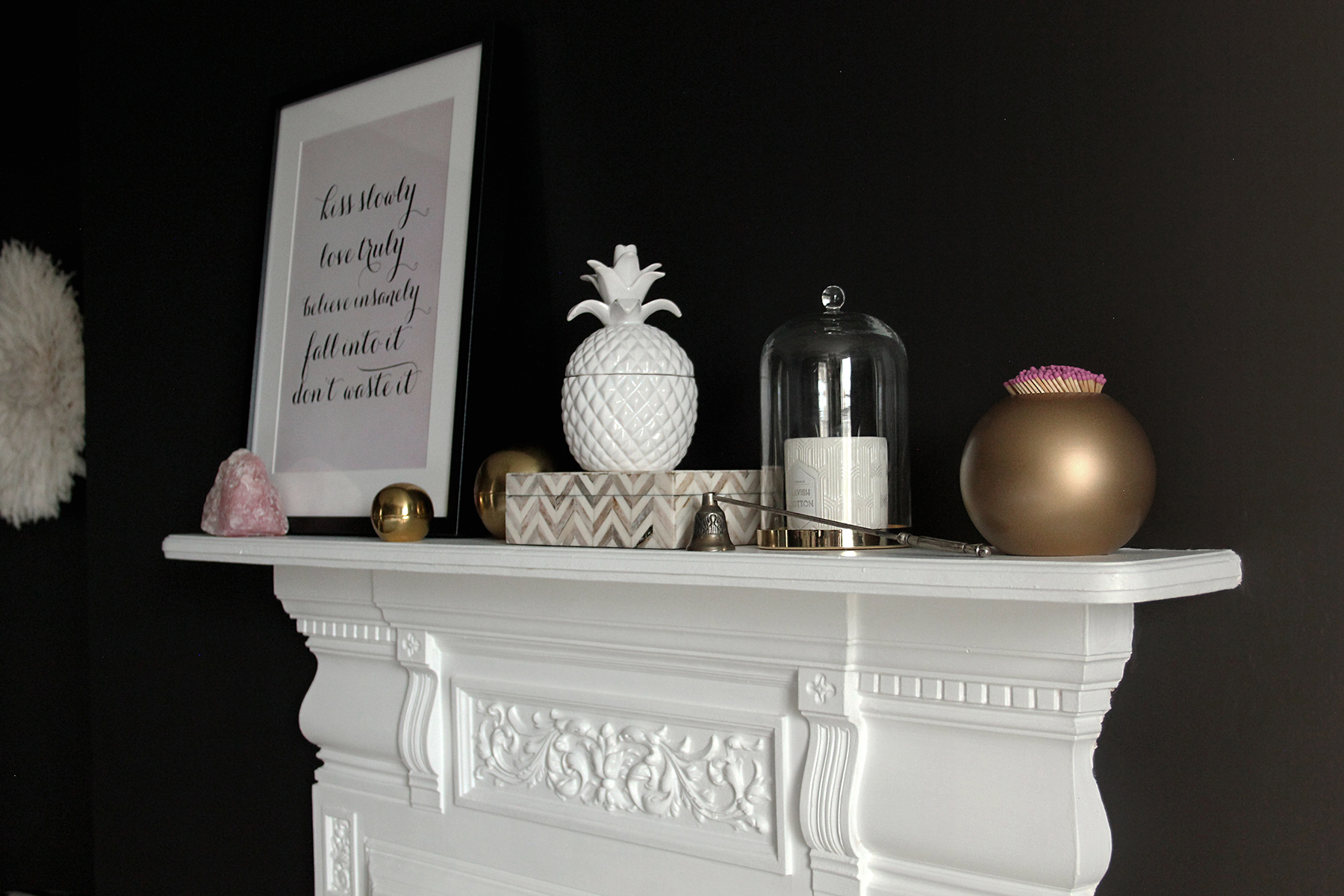 Love the white fireplace with the white walls!
J'aime la cheminée blanche avec les murs noirs !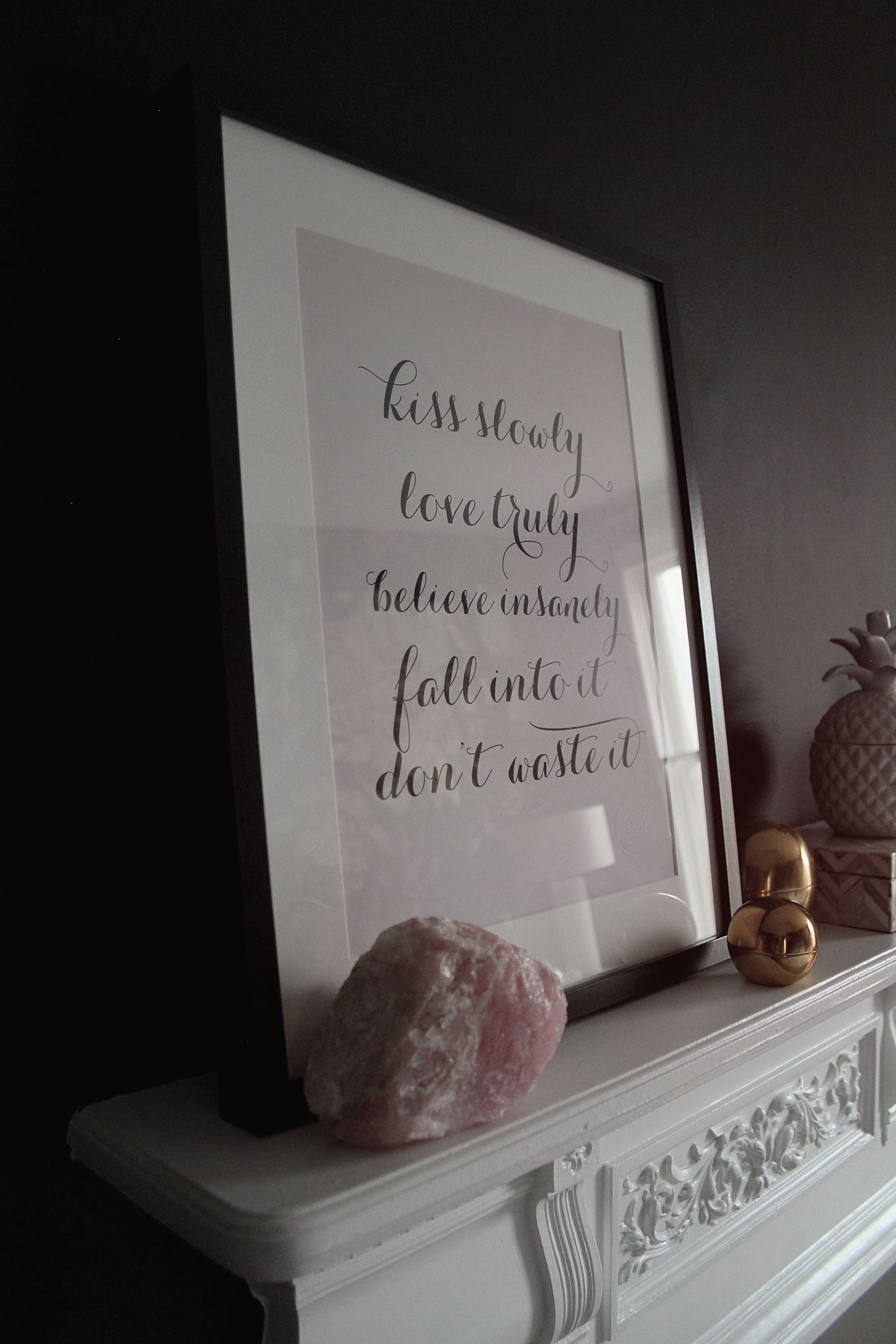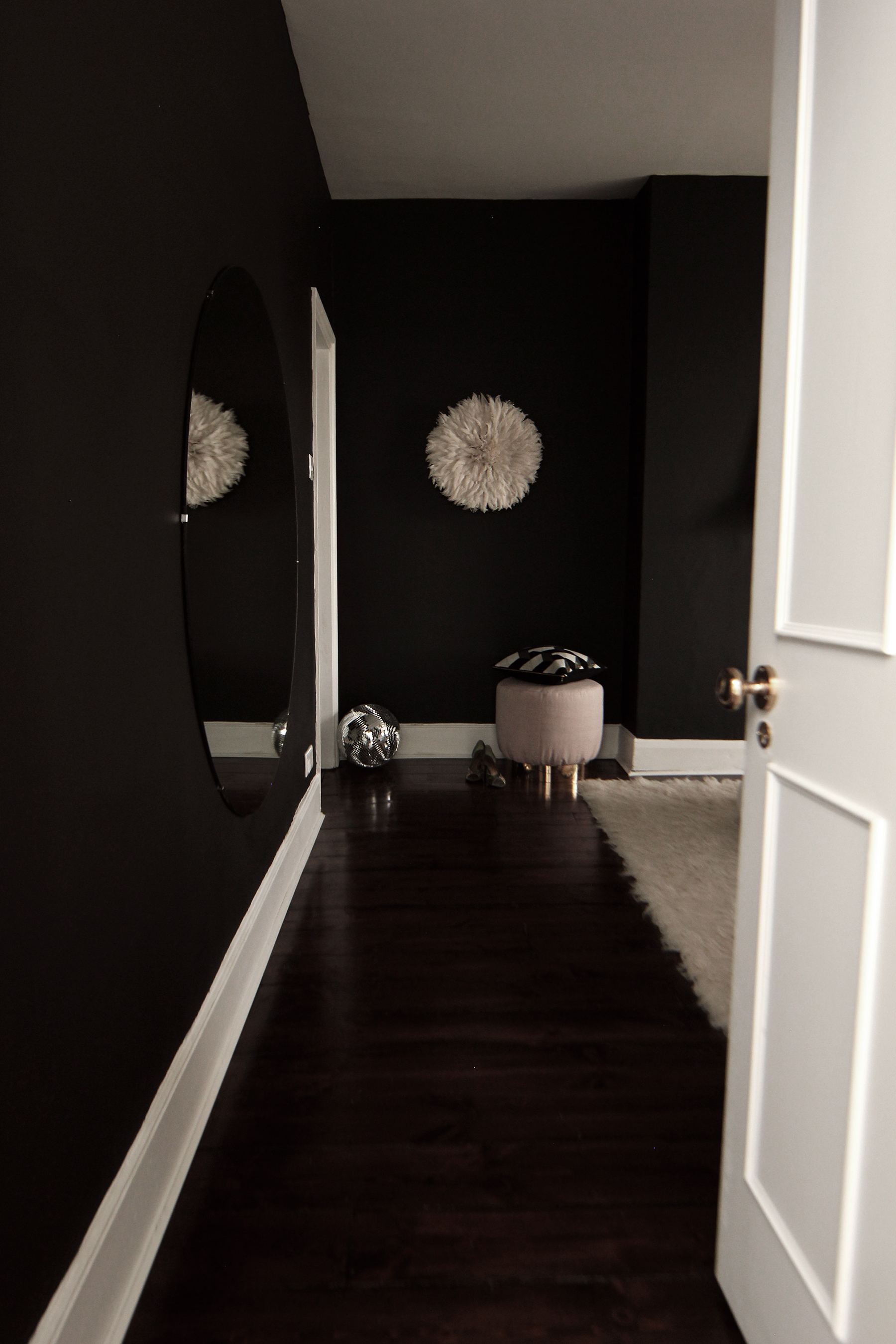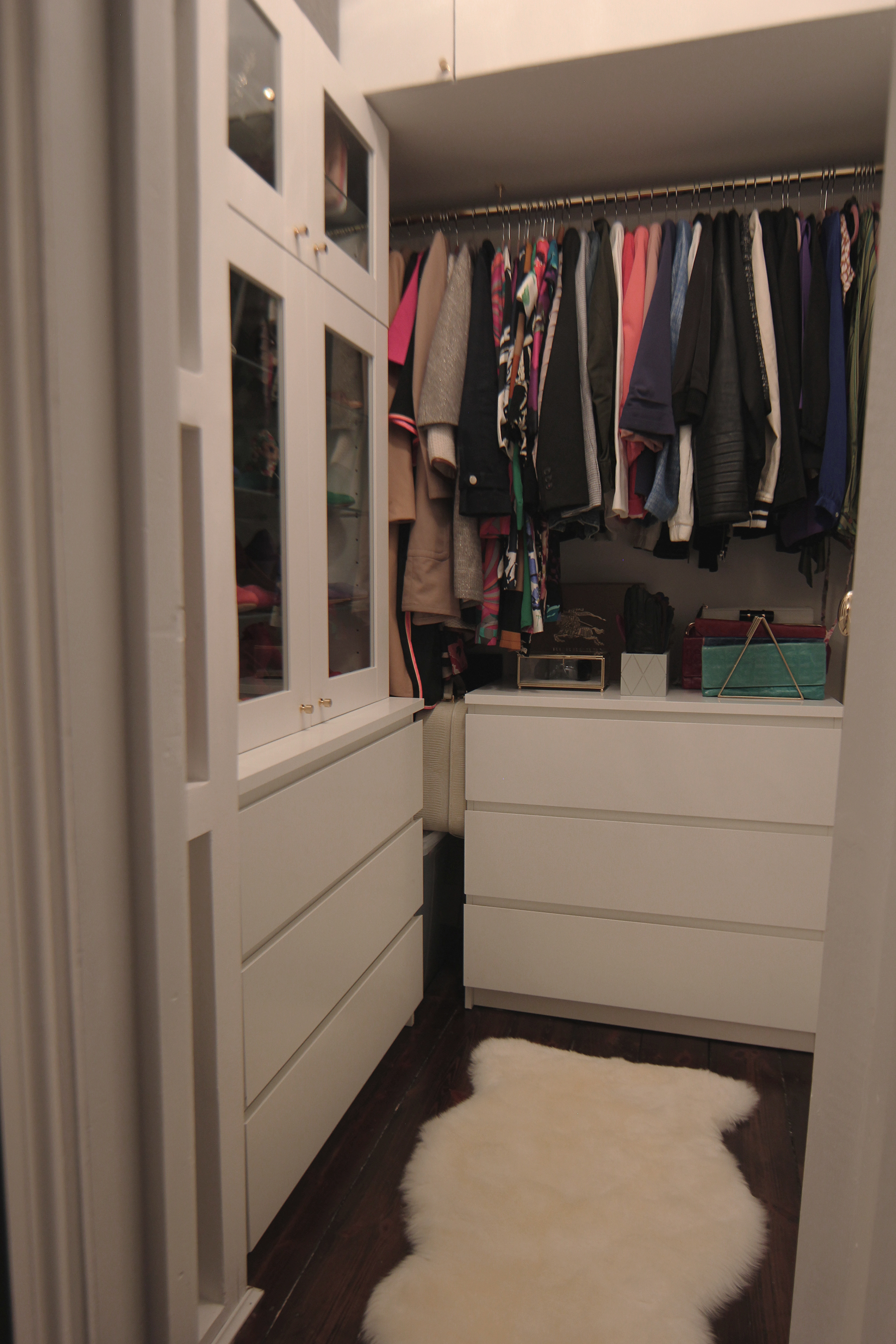 And finally the closet. It's definitely not complete but at least now everything is organised! No more mess everywhere, boxes and big bags full of anything. A clean closet with storage space for everything.
Et enfin le dressing. Il n'est pas du tout fini mais au moins maintenant tout est organisé ! Plus de désordre, de cartons et de grand sacs rempli de tout et rien. Un placard propre avec des rangements pour chaque chose.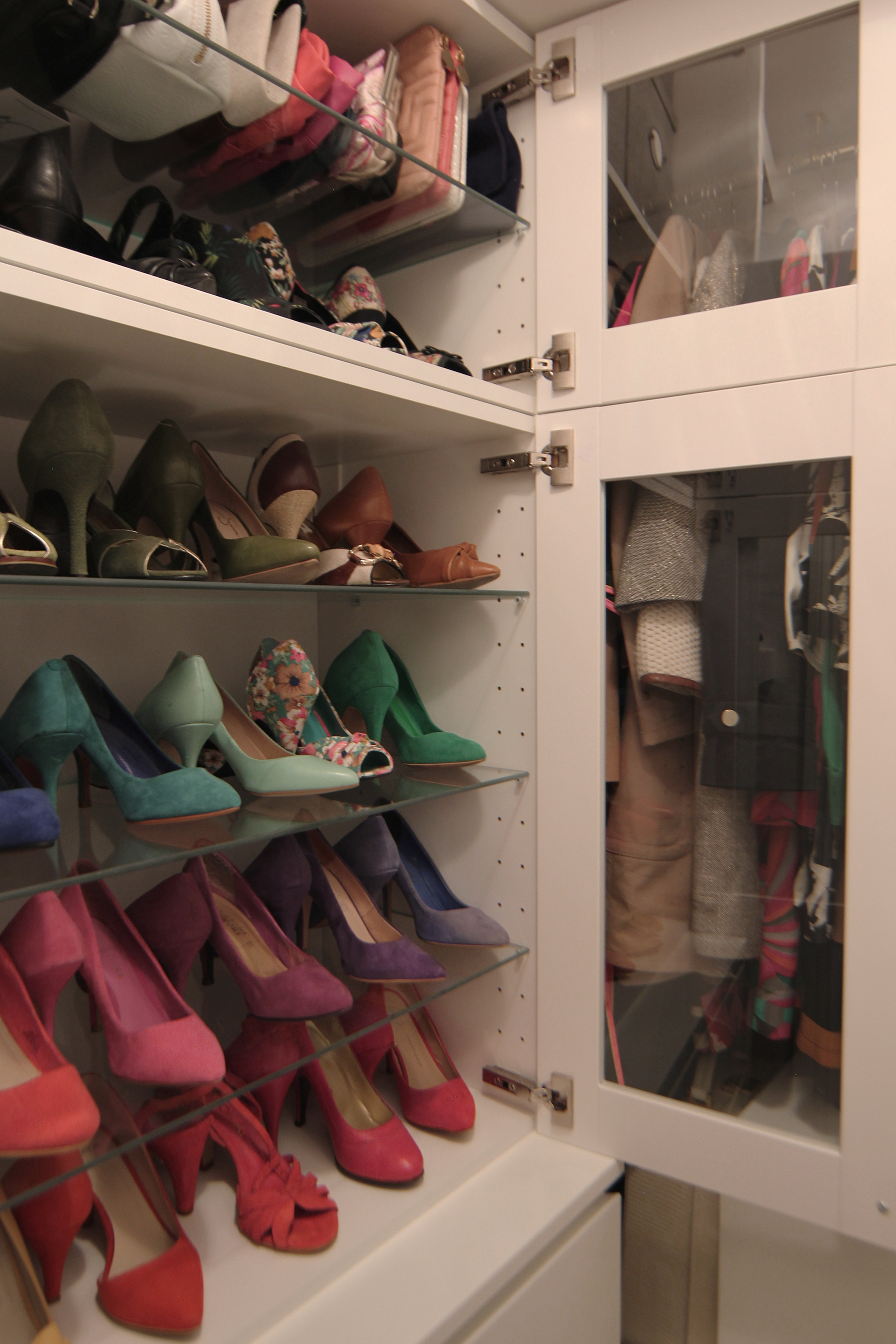 All my shoes fit in those Ikea kitchen cabinets.
Toutes mes chaussures tiennent dans ces meubles de cuisine Ikea.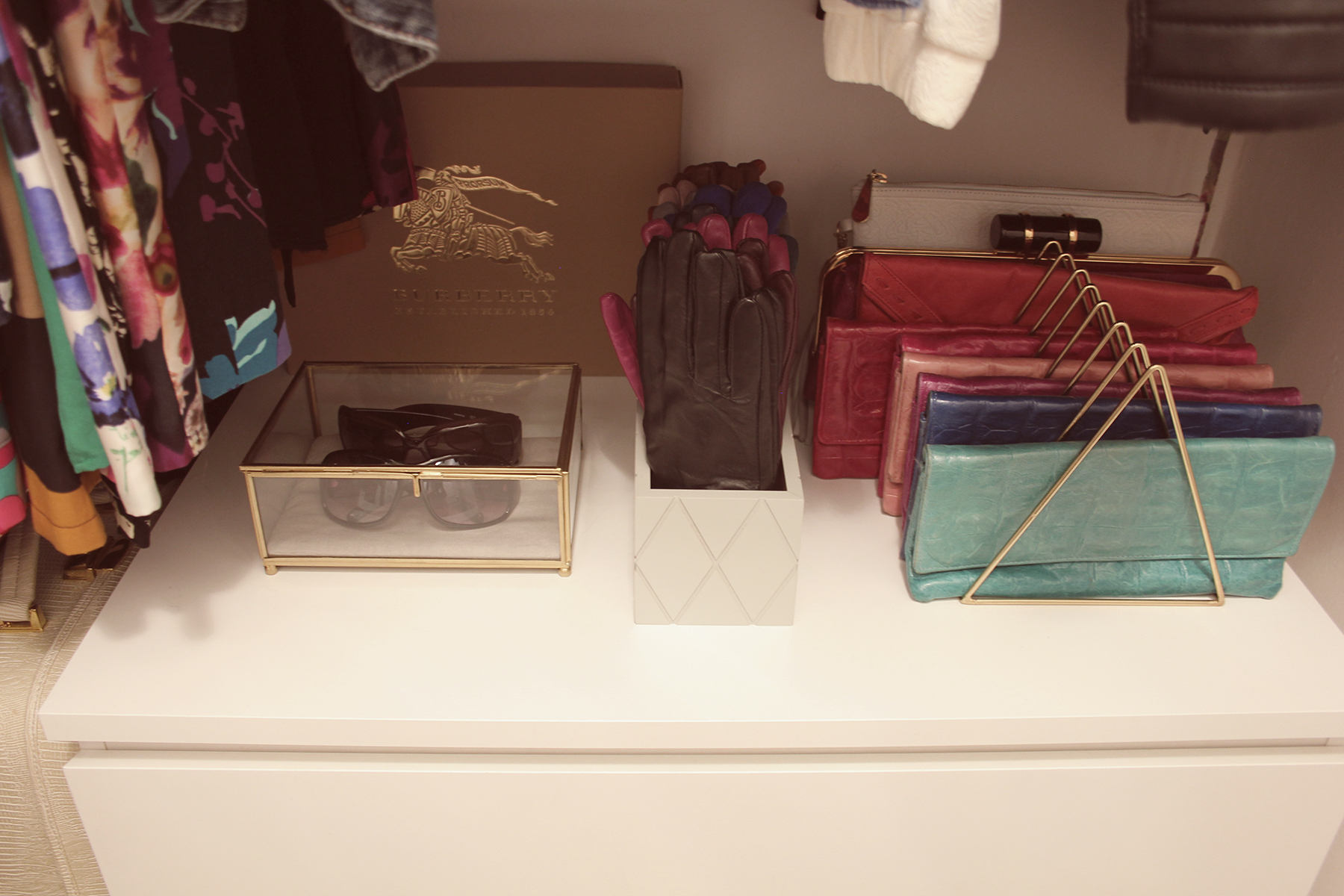 And even have a space for some clutches, my leather gloves and other accessories.
Et j'ai même un espace pour quelques pochettes, mes gants en cuir et autres accessoires.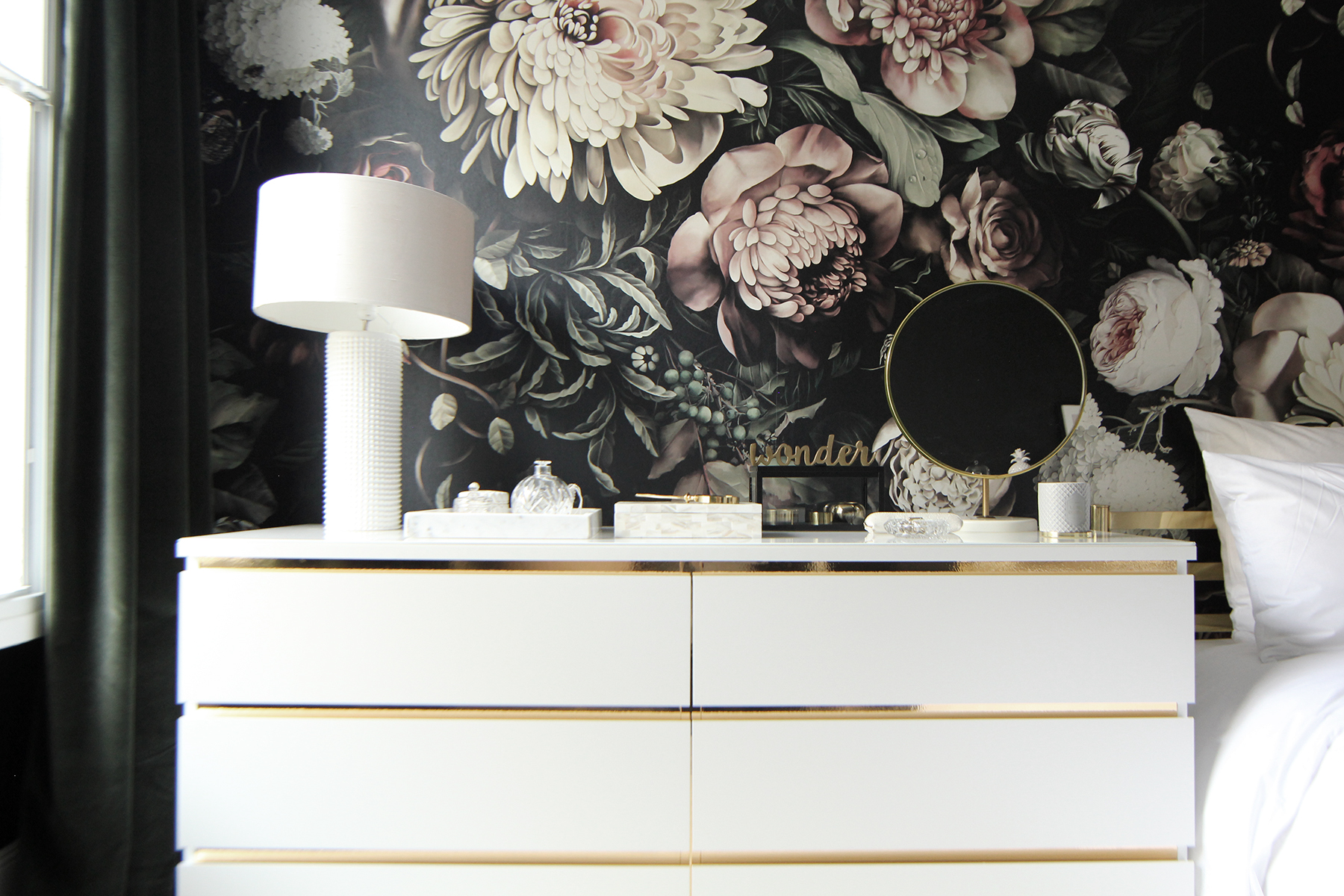 So that's it! I finally have a lovely room and can wake up every morning surrounded with flowers instead of mess! And this is the reason why I love the ORC because I think that without that I would have never found the time and motivation to do this room. So thank you so much Linda for making all this happen!
As I said, there are still a few things to complete the rooms so I will obviously keep you updated and share with you all my other DIY soon! In the meantime, you should definitely have a look at all the reveals of those amazing ORC makeover and ORC Guest Participants. I am sure you will love it and it will inspire you for your own projects!
XO
Et voilà ! J'ai enfin une jolie chambre et je me réveille chaque matin entourée de fleurs et non plus de désordre ! Et c'est la raison pour laquelle j'aime l'ORC car je pense que sans ça je n'aurais jamais trouvé le temps et la motivation de faire cette pièce. Alors un grand merci à Linda pour rendre tout cela possible !
Comme je l'ai dit, il y a encore pas mal de petites choses à faire ici pour terminer les pièces alors je partagerai bien entendu tout ça avec vous, ainsi que mes DIY, très bientôt ! En attendant, vous devriez vraiment aller jeter un oeil à toutes les incroyables transformations de pièces de l'ORC et de l'ORC Guest Participants. je suis certaine que vous allez aimer et que cela vous inspirera pour vos propres projets !
Biz