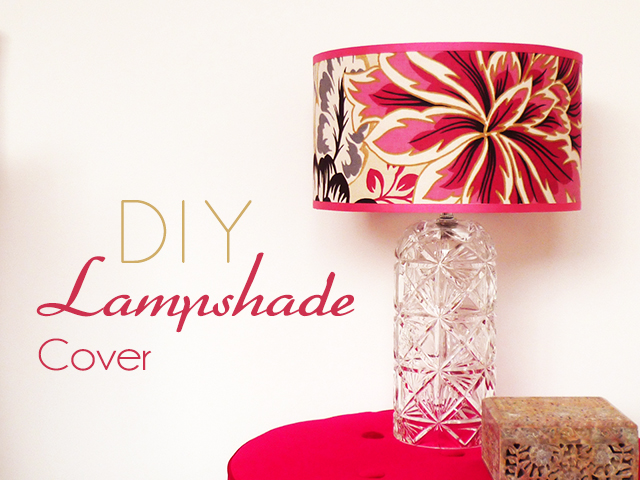 As I told you yesterday, I will show you today a little DIY both quick and simple to cover your lampshades.
Comme je vous l'ai dit hier, je vais aujourd'hui vous montrer un petit DIY facile et rapide à réaliser pour recouvrir vos abats-jour.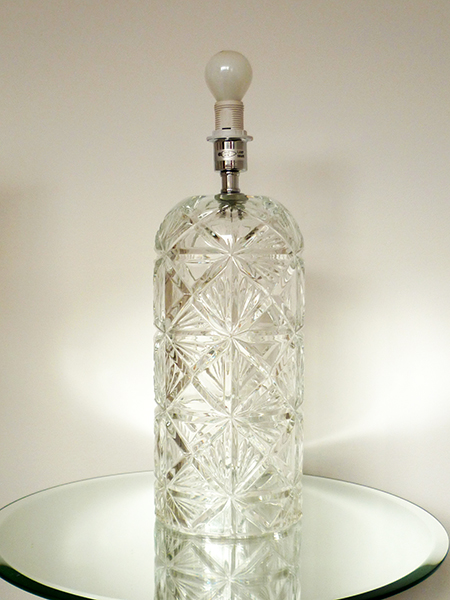 I bought this beautiful glass lamp base a few weeks ago. I looked around for a lovely lampshade to dress it but without success. The ones I found didn't fit or were too expensive. So I decided to buy a lampshade with the size and shape that I wanted (and with a good price too of course) to customize it.
J'ai acheté ce joli pied de lampe en verre il y a quelques semaines de cela. J'ai cherché un peu partout un bel abat-jour pour l'habiller mais sans succès. Ceux que j'ai trouvé n'allaient pas ou étaient beaucoup trop chers. J'ai donc décidé d'acheter un abat-jour dont le gabarit me convenait (et à petit prix bien sûr) pour le customiser.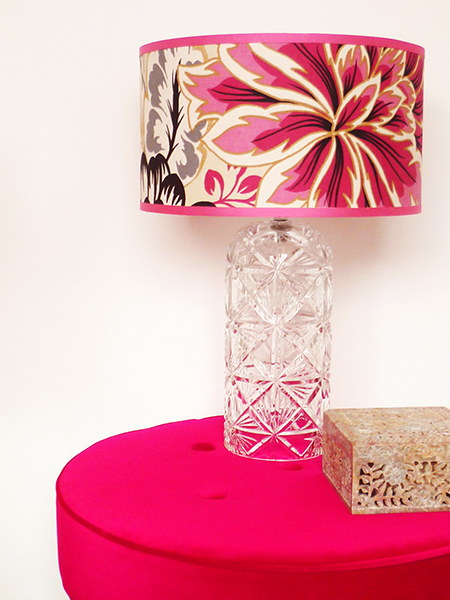 I will show you now step by step how I made this easy DIY that requires very little material. Some people use spray glue to fix the fabric and other kind of glue for finishing. As you will see, I prefer to use double-sided tape because you can easily remove the fabric if you want to change it. Which means that you can customize your lampshade to infinity as soon as you want to change your decoration.
Equipment:
- Lampshade
- Fabric
- Double-sided adhesive
- Ribbon
- Marker pen
- Scissors
Je vais vous montrer pas à pas comment j'ai fait ce DIY simple qui nécessite très peu de matériel. Certains utilisent de la colle en spray pour fixer le tissu ou d'autres types de colle pour les finitions. Comme vous le verrez, je préfère utiliser de l'adhésif double-face car il permet de pouvoir retirer facilement le tissu si vous souhaitez le changer. Vous pourrez donc customiser votre abat-jour à l'infini dés que vous voulez changer de déco.
Matériel :
- Un abat-jour
- Du tissu
- De l'adhésif double-face
- Du ruban
- Un feutre
- Des ciseaux


First, take your lampshade and put it on the fabric you have chosen. You need very little fabric and I actually used a remaining piece of fabric that I had used to cover a chair right here.
Tout d'abord, prenez votre abat-jour et placez-le sur le tissu que vous aurez choisi. Il vous faut très peu de tissu et j'ai d'ailleurs utilisé un bout du tissu qui me restait et que j'avais utilisé pour recouvrir une chaise juste ici.


Wrap the fabric around your lampshade. If you choose a patterned fabric, make sure to put your designs at the right place. As you can see, I made it so the big pink flower is on the front.
Enroulez le tissu autour de votre abat-jour. Si vous choisissez un tissu à motifs, faites en sorte de bien placer vos motifs. Comme vous le voyez, j'ai fait en sorte que la grande fleur rose soit bien placée sur le devant.


Using a marker pen, mark on your fabric the outline of the shade at the top and bottom. Make the mark inside the lampshade so that you will have a little margin. Unfolding your fabric you will get the lines that you will need to cut.
A l'aide d'un feutre, tracez sur votre tissu les contours de l'abat-jour en haut et en bas. Pour le tracé faites-le à l'intérieur afin qu'il y ait une petite marge. En dépliant votre tissu vous obtiendrez le tracé à découper.


Cut your fabric using scissors, leaving a margin of at least 5 cm on the length. Then put double-sided tape around the shade at the top and bottom. Put also a piece on the height where you will start sticking the fabric.
Découpez votre tissu avec des ciseaux en laissant une marge d'au moins 5 cm sur la longueur. Ensuite, mettez du scotch double-face tout autour de l'abat jour en haut et en bas. Mettez-en également un morceau sur la hauteur là où vous commencerez à coller votre tissu.


You can now start sticking the fabric, making sure to stretch it around your lampshade.
Vous pouvez maintenant commencer à coller le tissu en veillant à bien le tendre tout autour de votre abat-jour.


To close your fabric, fold the excess fabric which is the margin of about 5 cm that was previously left. Put a piece of double-sided adhesive on the height and stick your fabric.
Pour fermer votre tissu, pliez l'excédent de tissu qui correspond à la marge d'environ 5 cm qui avait été laissée auparavant. Mettez un morceaux d'adhésif double-face sur la hauteur et collez votre tissu.


Cut the excess fabric at the top and bottom with scissors to have clean edges.
Découpez l'excédent de tissu en haut et en bas avec des ciseaux pour avoir des bords bien nets.


Finally, you just have to put a ribbon using double-sided tape for finishing and your shade is done.
Pour finir, il ne vous reste plus qu'à coller un ruban avec du scotch double face pour la finition et votre abat-jour est terminé.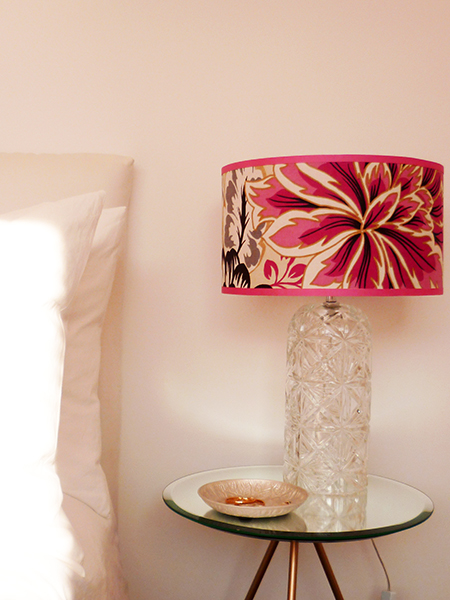 And here is a new lampshade that is unique and colorful! Easy, isn't it?
Et voilà un nouvel abat-jour unique et coloré ! Facile, non ?