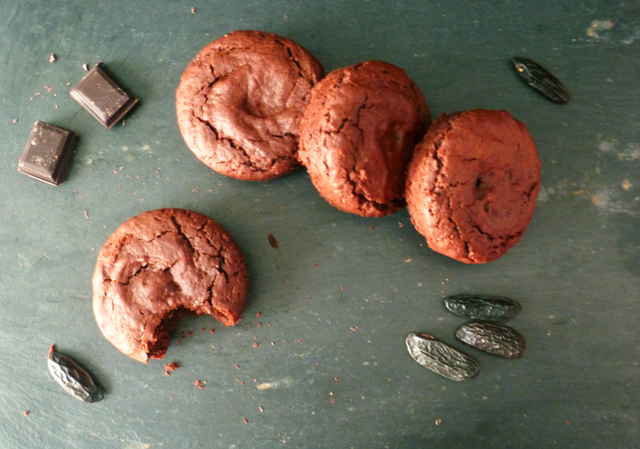 Yesterday, a friend of mine came to my home and I know that just like me she has a small weakness for chocolate!
Hier, une de mes amies est venue chez moi et je sais que tout comme moi elle a une petite faiblesse pour le chocolat !

So I cooked these chocolate and tonka bean soft biscuits for her. This is a very easy and quick recipe which is always successful. To make it, I was inspired by the recipe of "Biscuits Moelleux au Chocolat" from Pure Gourmandise that I slightly changed. To give them even more flavor I prefer to use bold dark chocolate, I also added a small pinch of salt to enhance the taste and I finally replaced the vanilla with tonka bean. I like the flavor and taste it gives to the biscuits! You will find my little recipe just above in English and in French below ... Depending on the thickness of the biscuits and mold size you choose, you will get from 6 to 12 biscuits. Personally I prefer them very thick as you can see from the photos!
Je lui ai donc préparé ces petits biscuits moelleux au chocolat et à la fève tonka. C'est une recette très facile et rapide à préparer qui a toujours du succès. Pour la base, je me suis inspirée de la recette de Pure Gourmandise de "Biscuits Moelleux au Chocolat" que j'ai légèrement modifiée. Pour leur donner encore plus de goût j'ai préféré utiliser du chocolat noir corsé, j'ai également ajouté une petite pincée de fleur de sel pour accentuer le goût et enfin, j'ai remplacé la vanille par de la fève tonka. J'aime le parfum et l'arôme qu'elle apporte aux biscuits ! Vous trouverez ma petite recette juste en-dessus en anglais et en-dessous en français... Selon l'épaisseur des biscuits et la taille du moule que vous choisirez, vous obtiendrez 6 à 12 biscuits environ. Personnellement je les préfère très épais comme vous pouvez le voir sur les photos !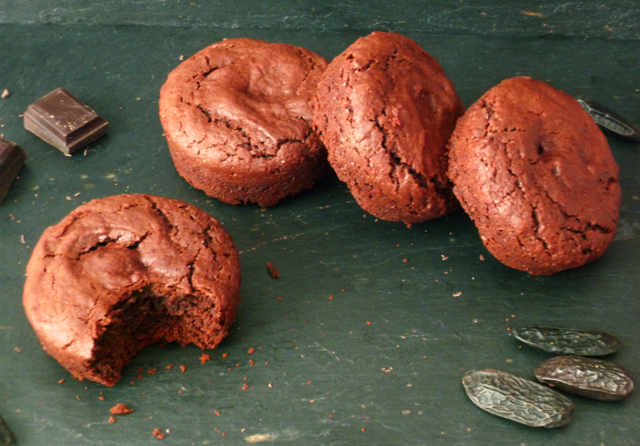 Bon appétit & enjoy!
Bonne dégustation !