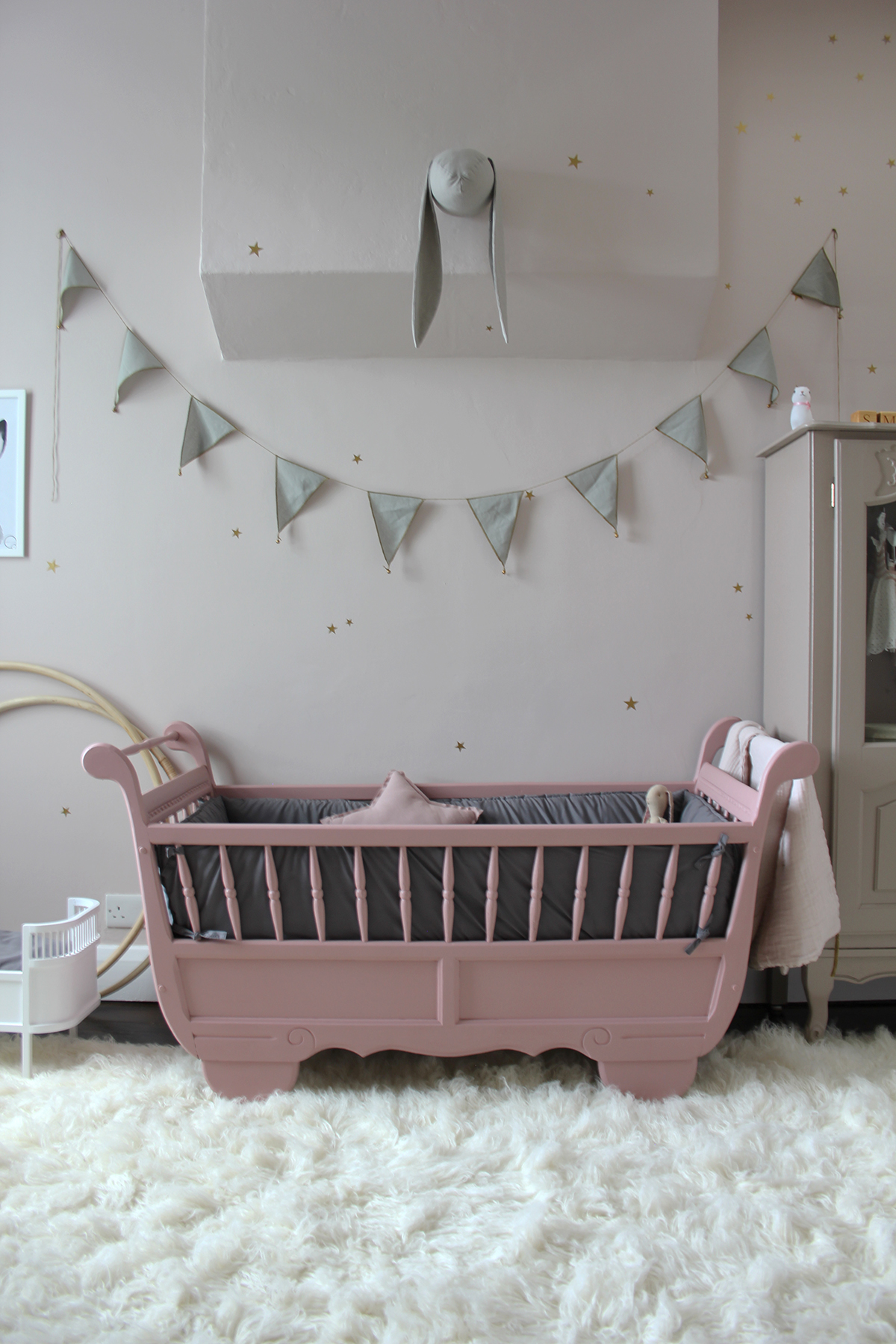 After six crazy weeks of sanding, painting, sewing and so on; it's now time for the reveal!
Après six semaines folles de ponçage, peinture couture et j'en passe, c'est maintenant l'heure du dévoilement !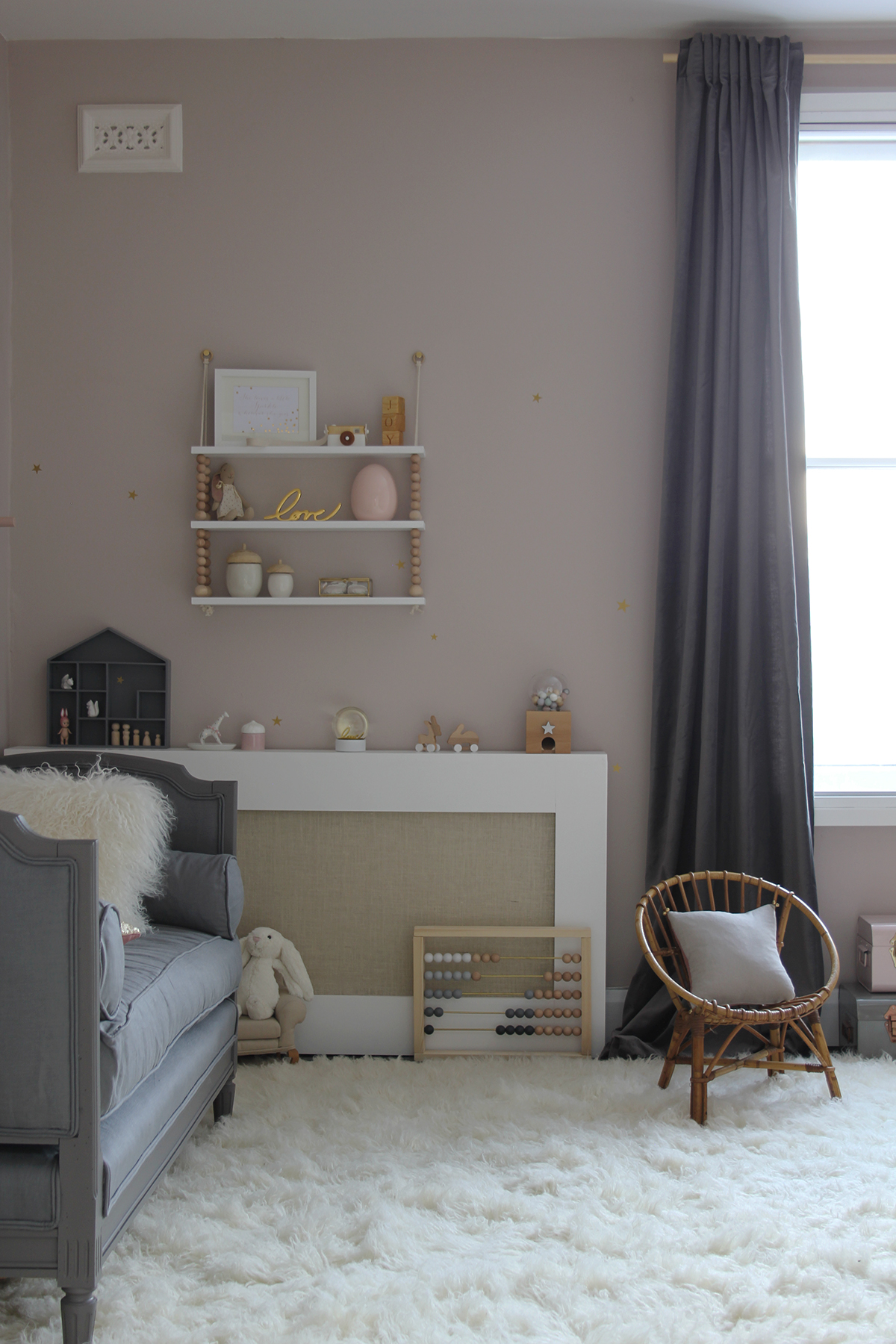 I thought I would never survive to all this work and stress because a whole room makeover in only six weeks is exhausting! But I am now proud to say that I made it! I have to admit I really doubted I could make it because with a little baby at home everything is more complicated and takes more time. Yesterday I spent the morning sewing (still) for a last DIY. Then the rest of the day was finishing decorating the room, hanging things around and finally taking pictures. That is to say that the room has literally been complete at the last minute! And after all this I didn't sleep yet as I am still awake to write this post because today is the big day for the reveal of my nursery!
In case you are joining now, I took part in the One Room Challenge Guest Participants organised by Linda of Calling it Home. It was a 6 weeks room makeover challenge and I chose to do my little baby's nursery. If you want to catch up and see what happened along this adventure you can do it here:
Week 1 "Project Nursery"
Week 2 "Nursery Plan"
Week 3 "Nursery Progress & Doubts"
Week 4 "Slowly but Surely"
Week 5 "DIY Time"
J'ai cru que je n'allais jamais survivre à tout ce travail et ce stress parce que la transformation totale d'une pièce en seulement six semaines c'est éreintant ! Mais je suis aujourd'hui fière de dire que j'y suis arrivée ! Je dois admettre que j'ai vraiment douté pouvoir y arriver car avec un petit bébé à la maison tout est plus compliqué et prend plus de temps. Hier j'ai passé la matinée à coudre pour un DIY de dernière minute. J'ai ensuite passé le reste de la journée à finir de décorer la pièce, accrocher des choses aux murs pour enfin pouvoir prendre les photos. Autant dire que la pièce a vraiment été terminée à la dernière minute ! Et après tout ça je n'ai pas dormi et je suis toujours réveillée pour écrire cet article car c'est aujourd'hui le grand jour pour vous montrer ma chambre de bébé !
Au cas où vous nous rejoigniez maintenant, j'ai participé au One Room Challenge Guest Participants organisé par Linda de Calling it Home. C'était un challenge de 6 semaines pour transformer une pièce et j'ai choisi de faire la chambre de mon petit bébé. Si vous voulez lire les précédents posts et voir ce qui s'est passé tout au long de cette aventure c'est juste ici :
Week 1 "Project Nursery"
Week 2 "Nursery Plan"
Week 3 "Nursery Progress & Doubts"
Week 4 "Slowly but Surely"
Week 5 "DIY Time"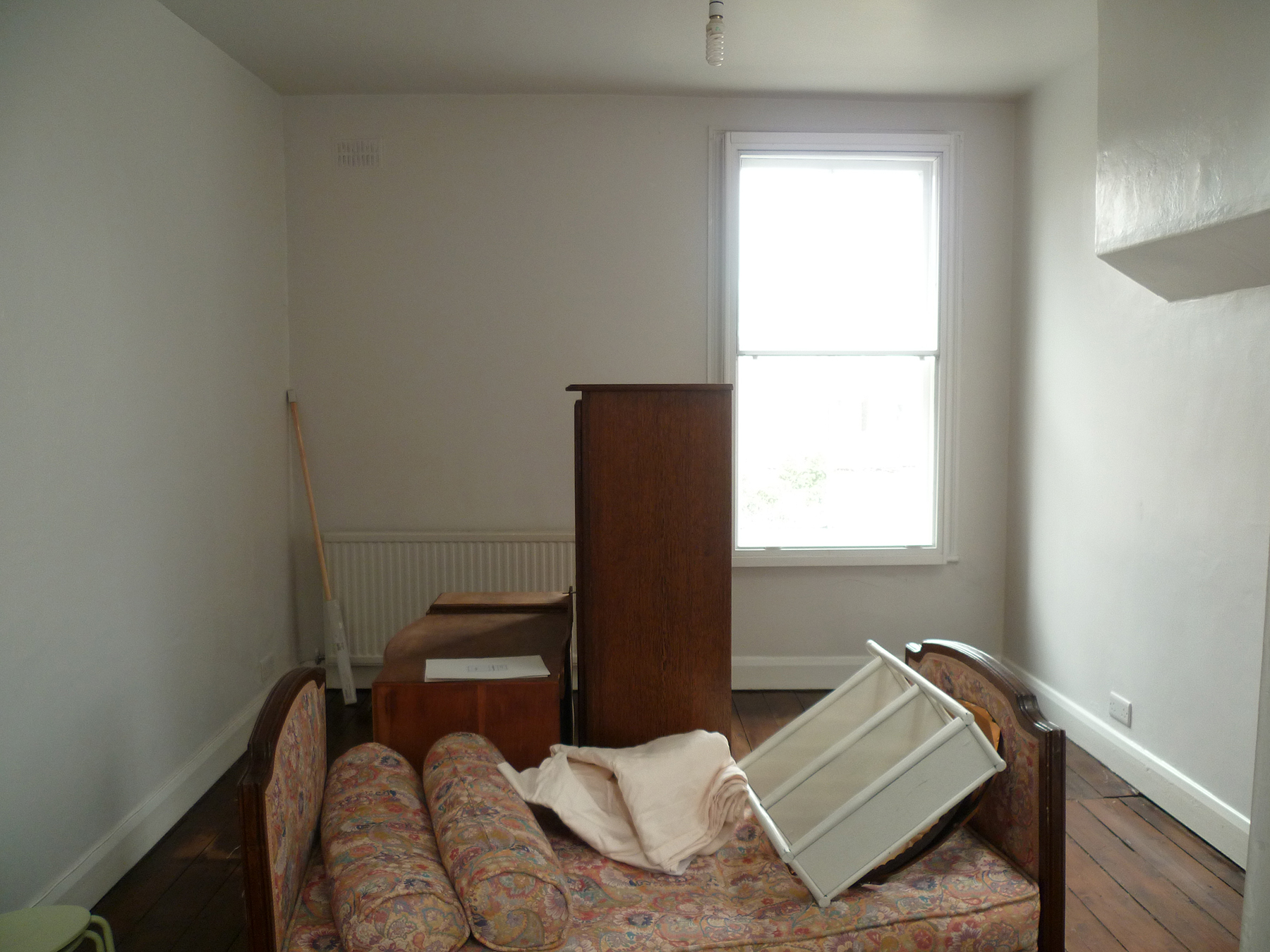 So, if you don't remember here is what the room looked like six weeks ago.
Alors, si vous vous souvenez voilà à quoi ressemblait la pièce six semaines en arrière.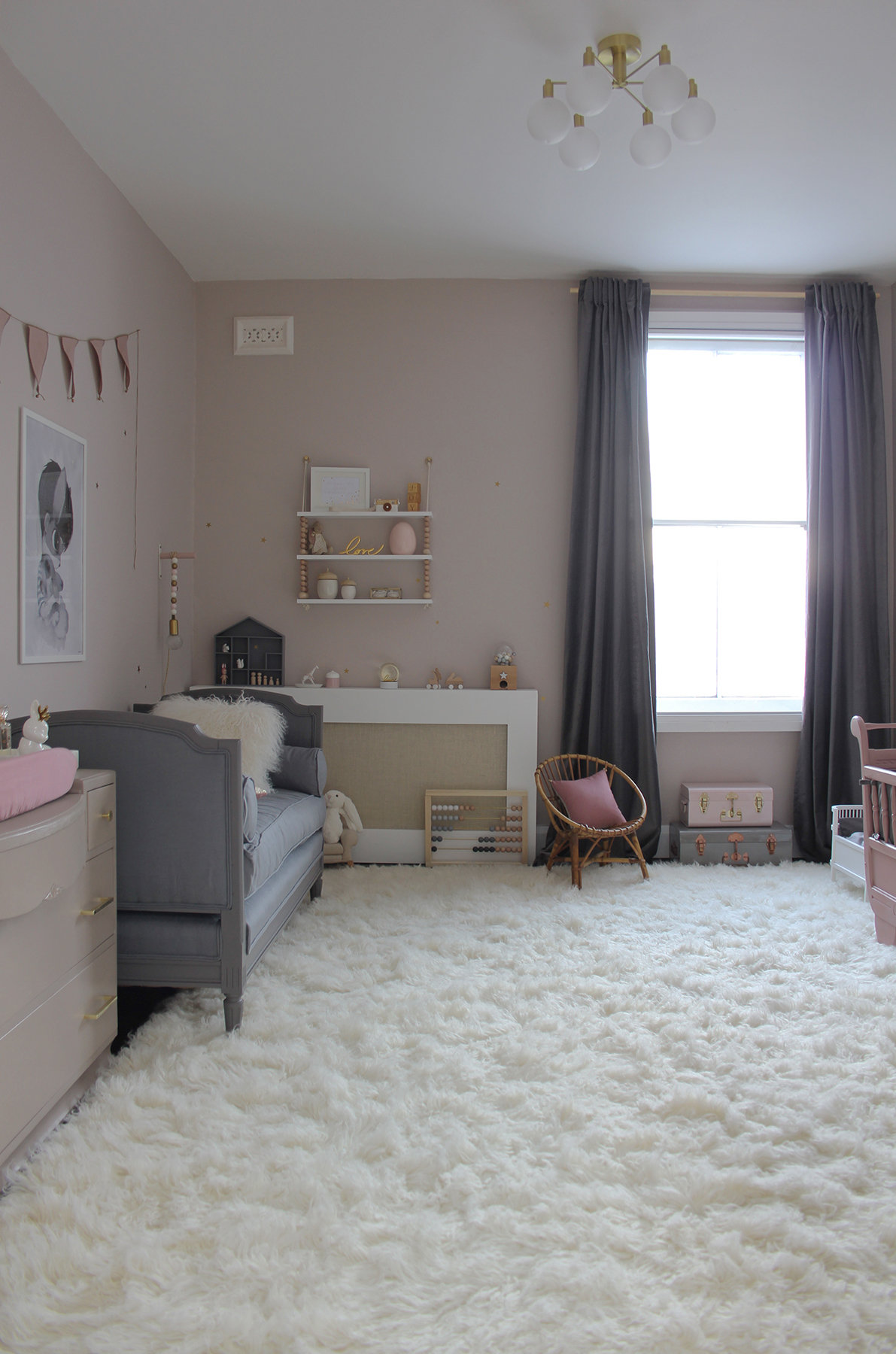 And here it is today.
Et la voici aujourd'hui.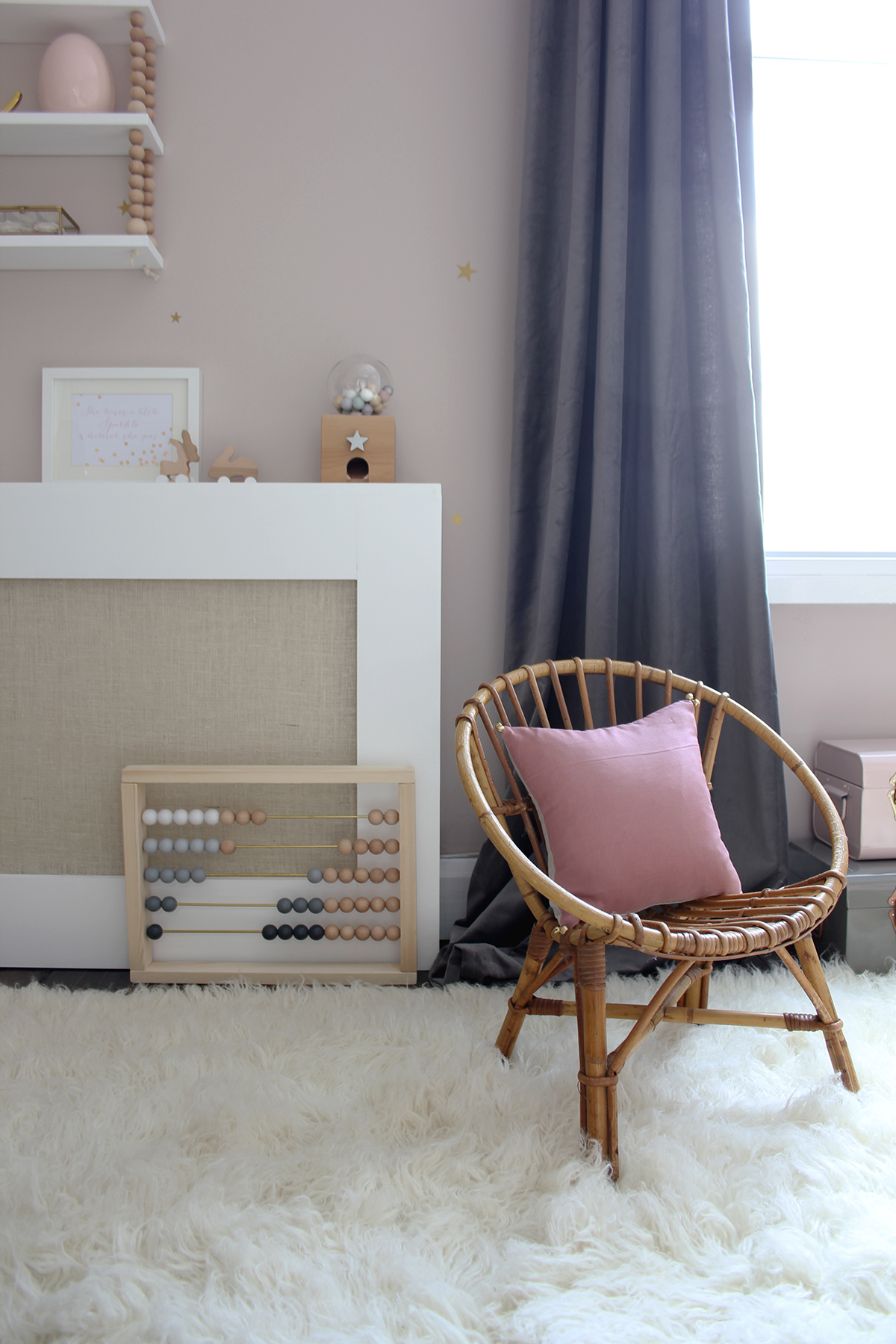 I have to say that I am really happy with the result. It was a huge amount of work, but it was worth it!
Je dois dire que je suis ravie du résultat. C'était vraiment beaucoup de boulot, mais cela en valait vraiment la peine !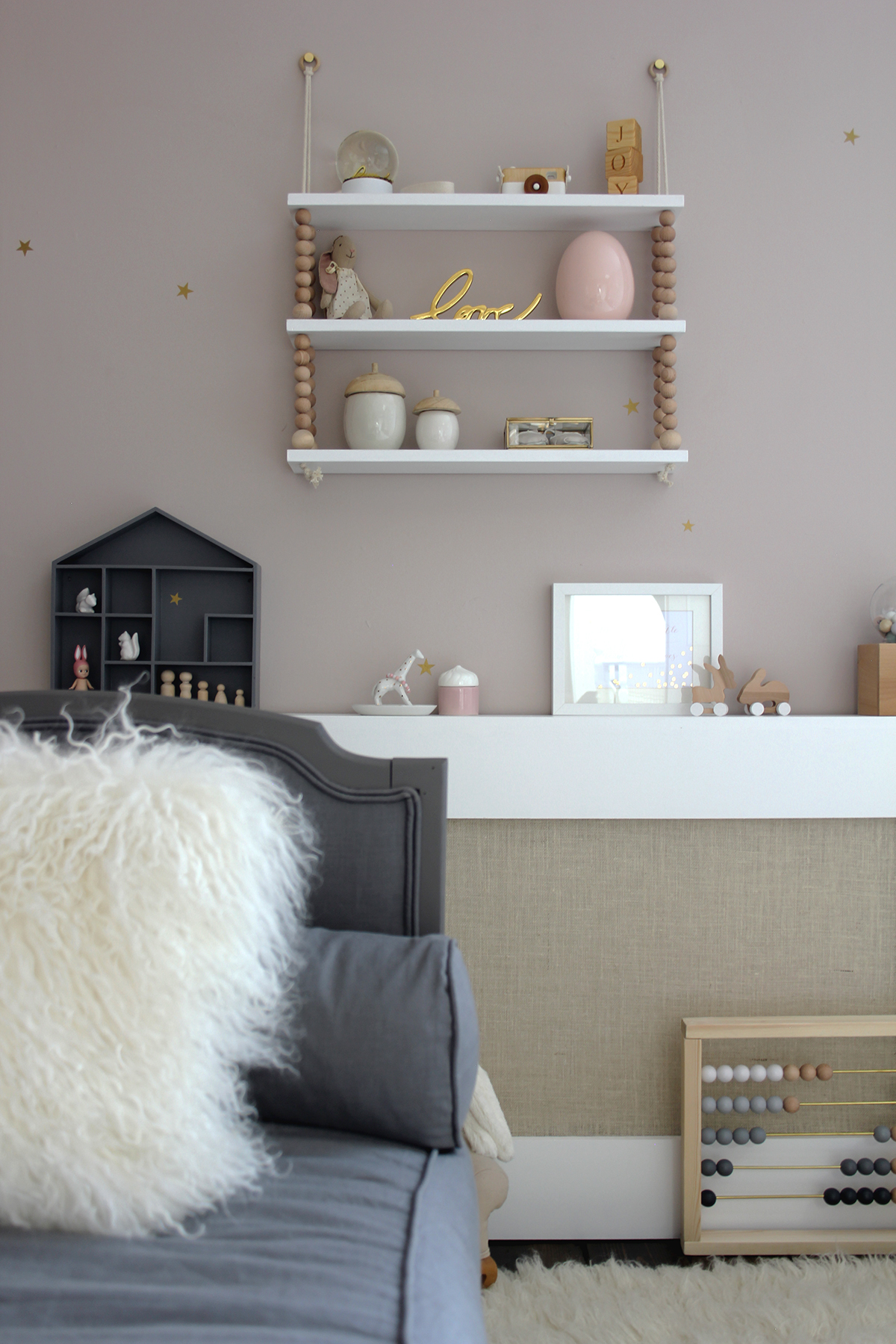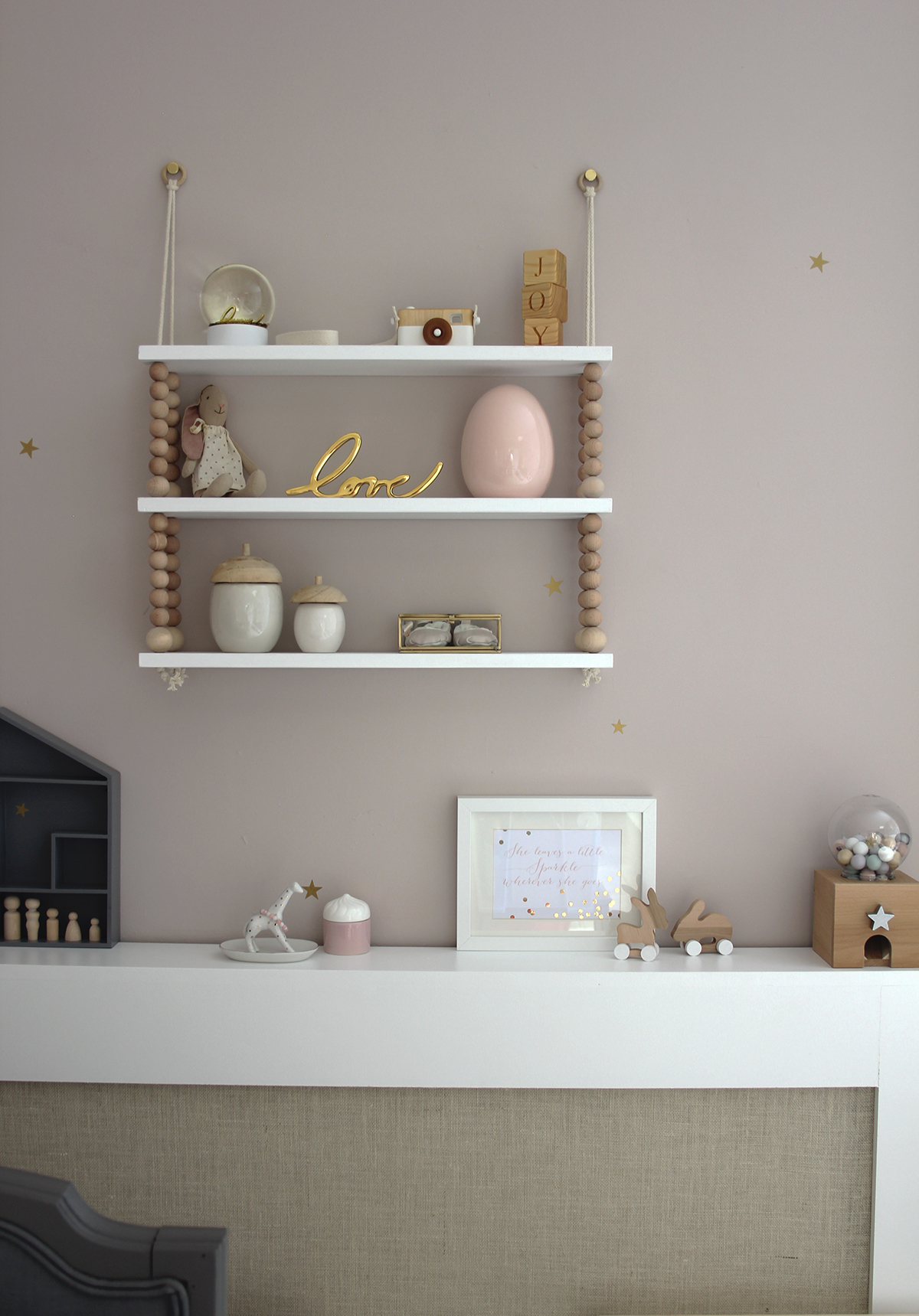 The wooden beads shelves above is a DIY that I will share with you soon on the blog.
L'étagère avec les perles en bois et un DIY que je partagerai bientôt avec vous sur le blog.

The same for this grey ombre abacus that I made and I will show you the how to in the next weeks.
De même que cet abacus en dégradé de gris que j'ai fabriqué et je vous montrerai également comment dans les prochaines semaines.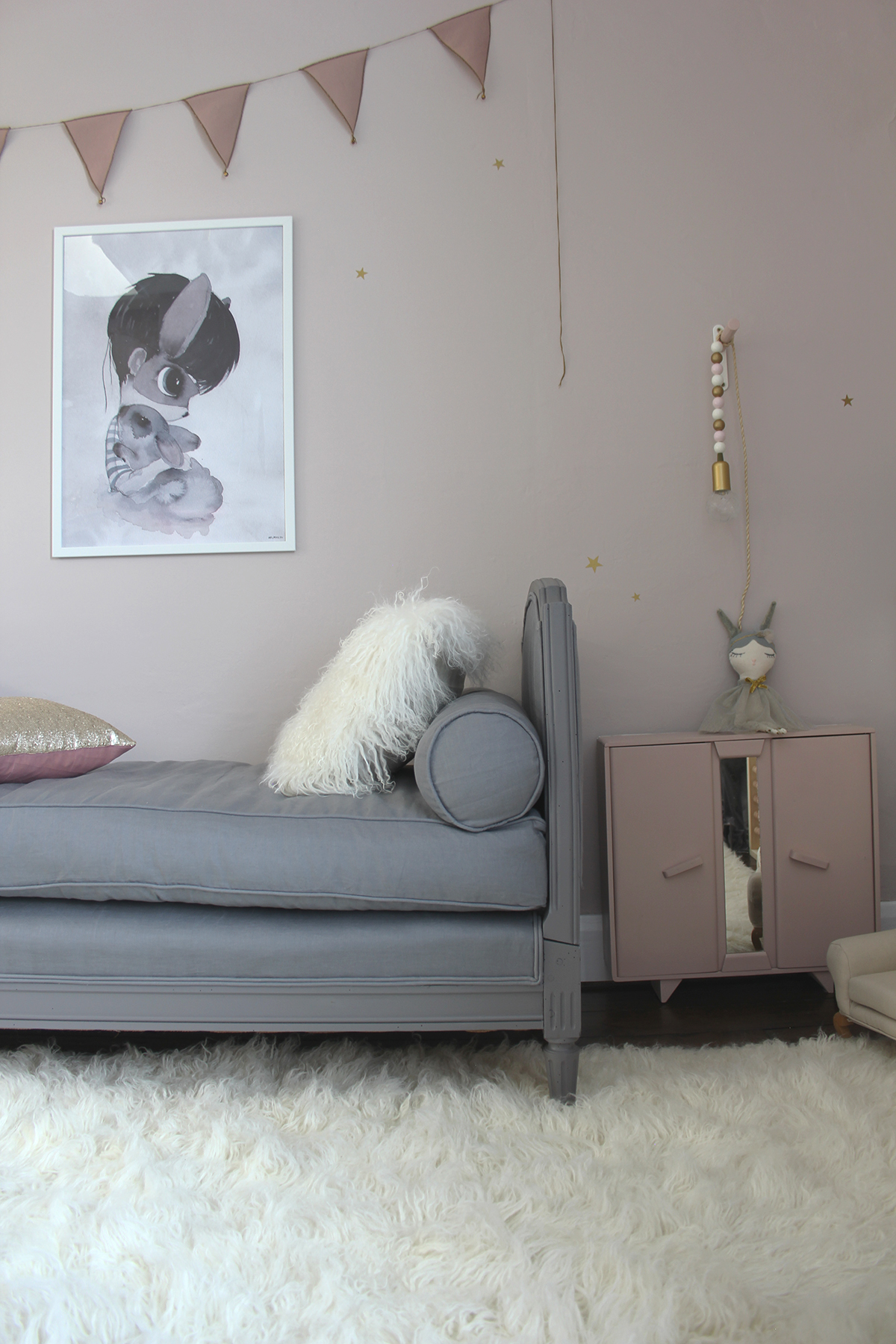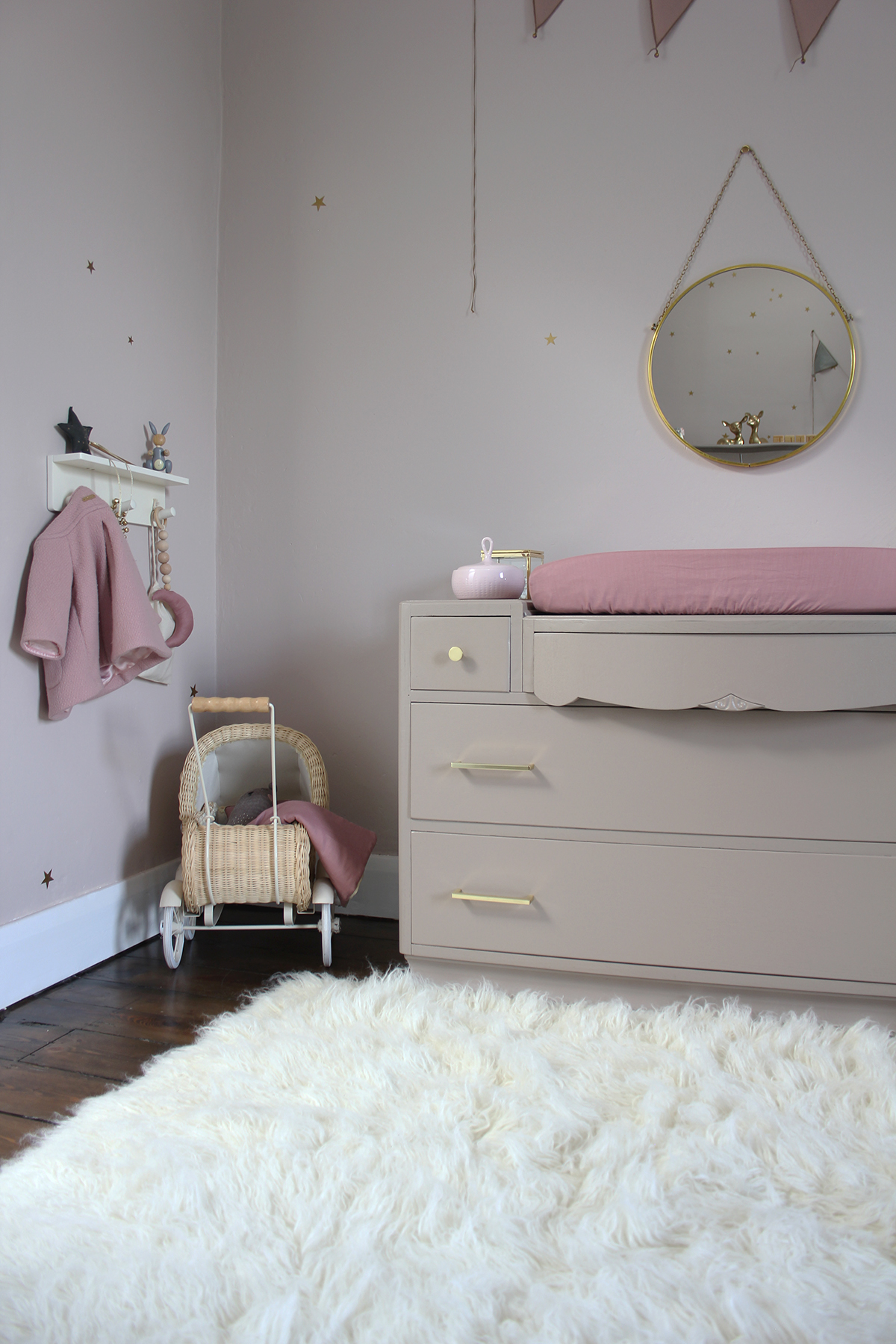 Can you believe this brass chain mirror is also a DIY!
Est-ce que vous pouvez imaginer que ce miroir doré avec chaîne est aussi un DIY !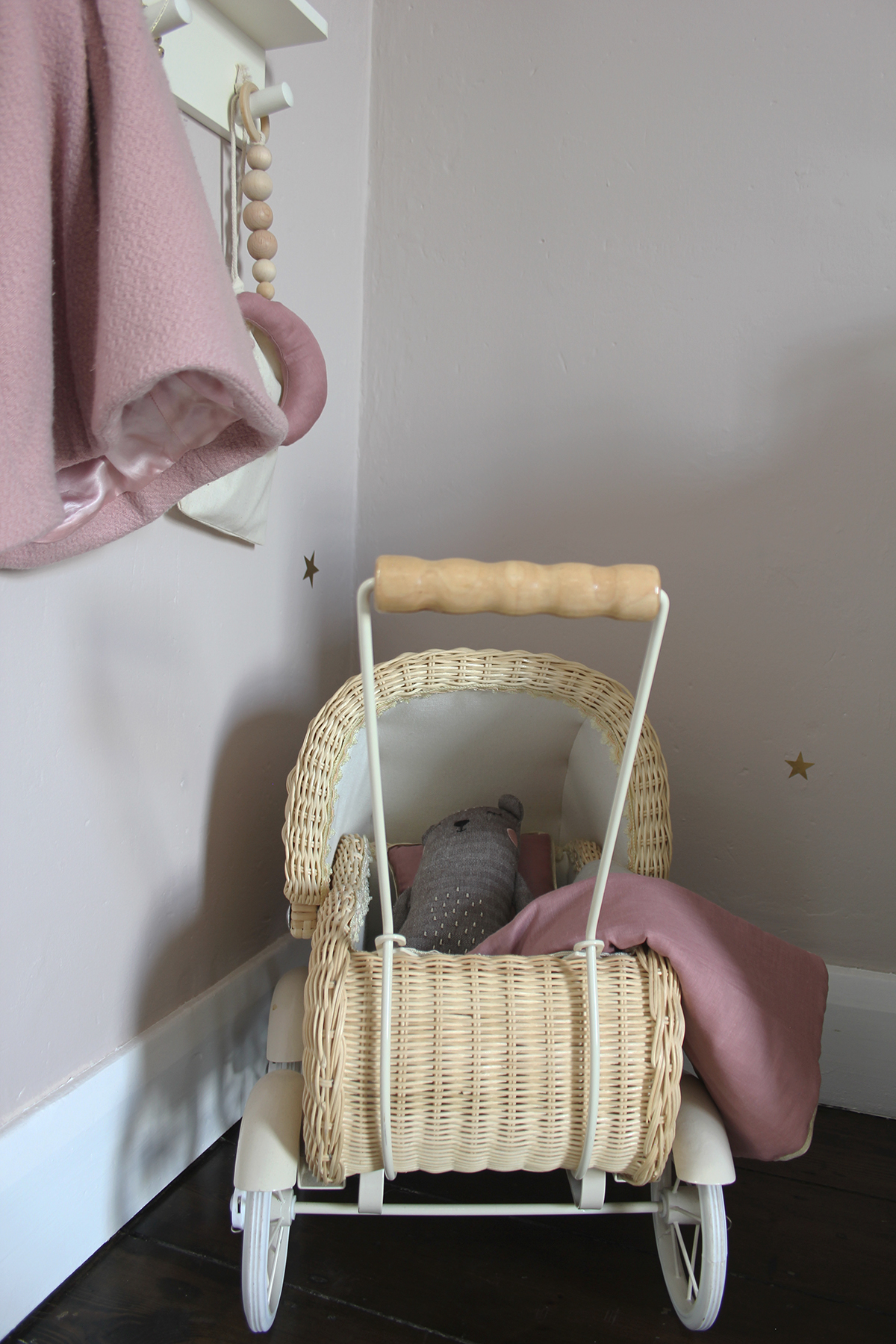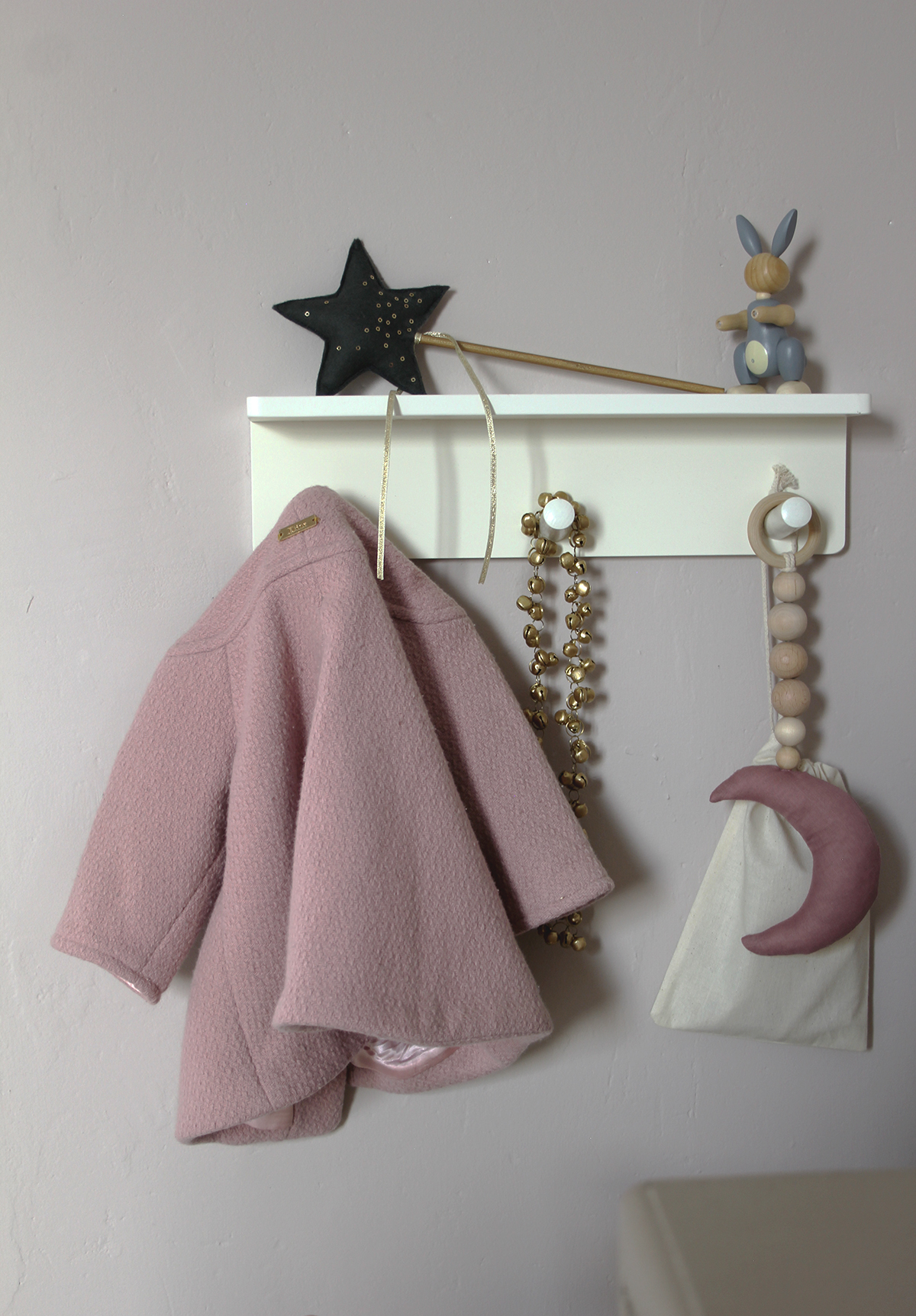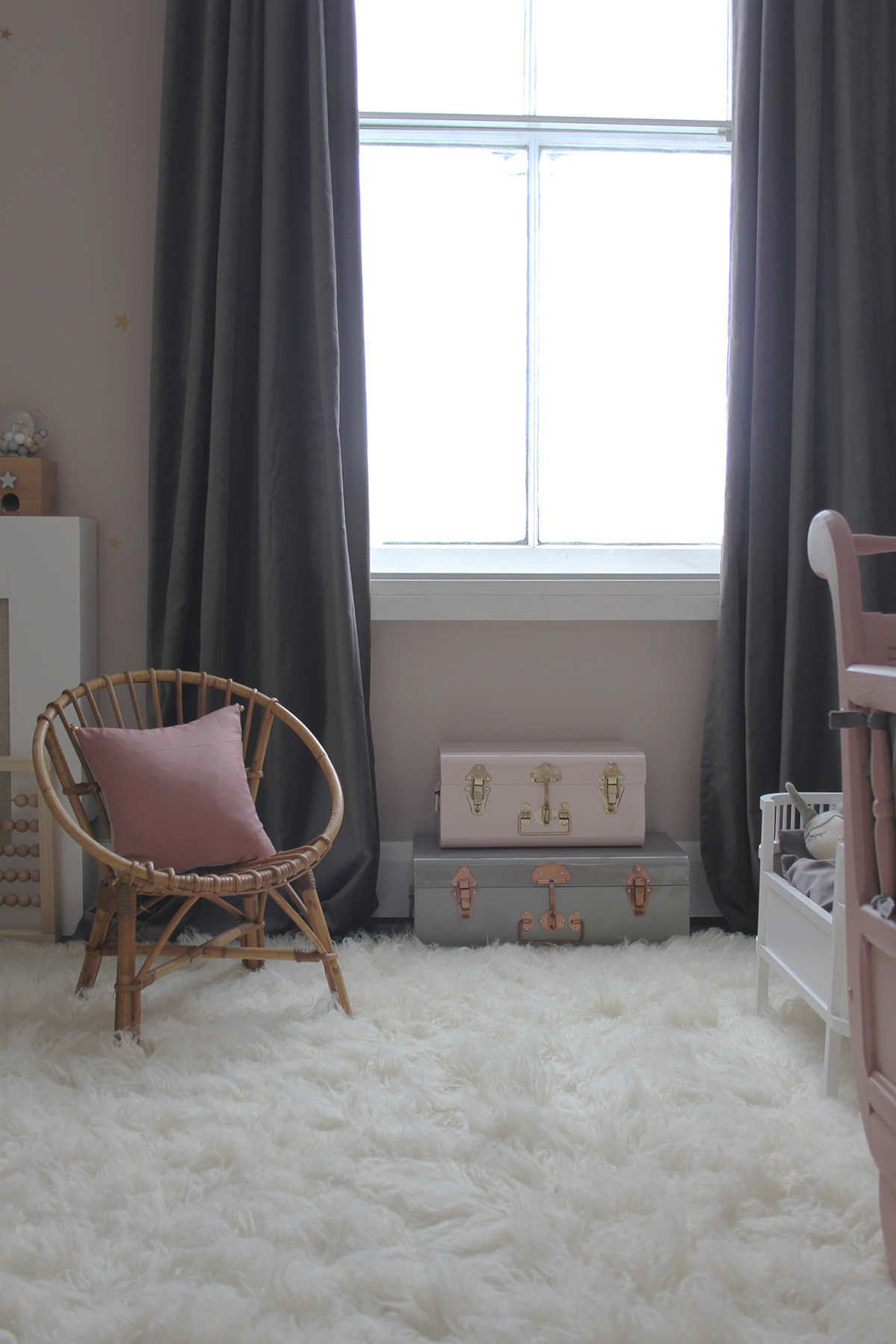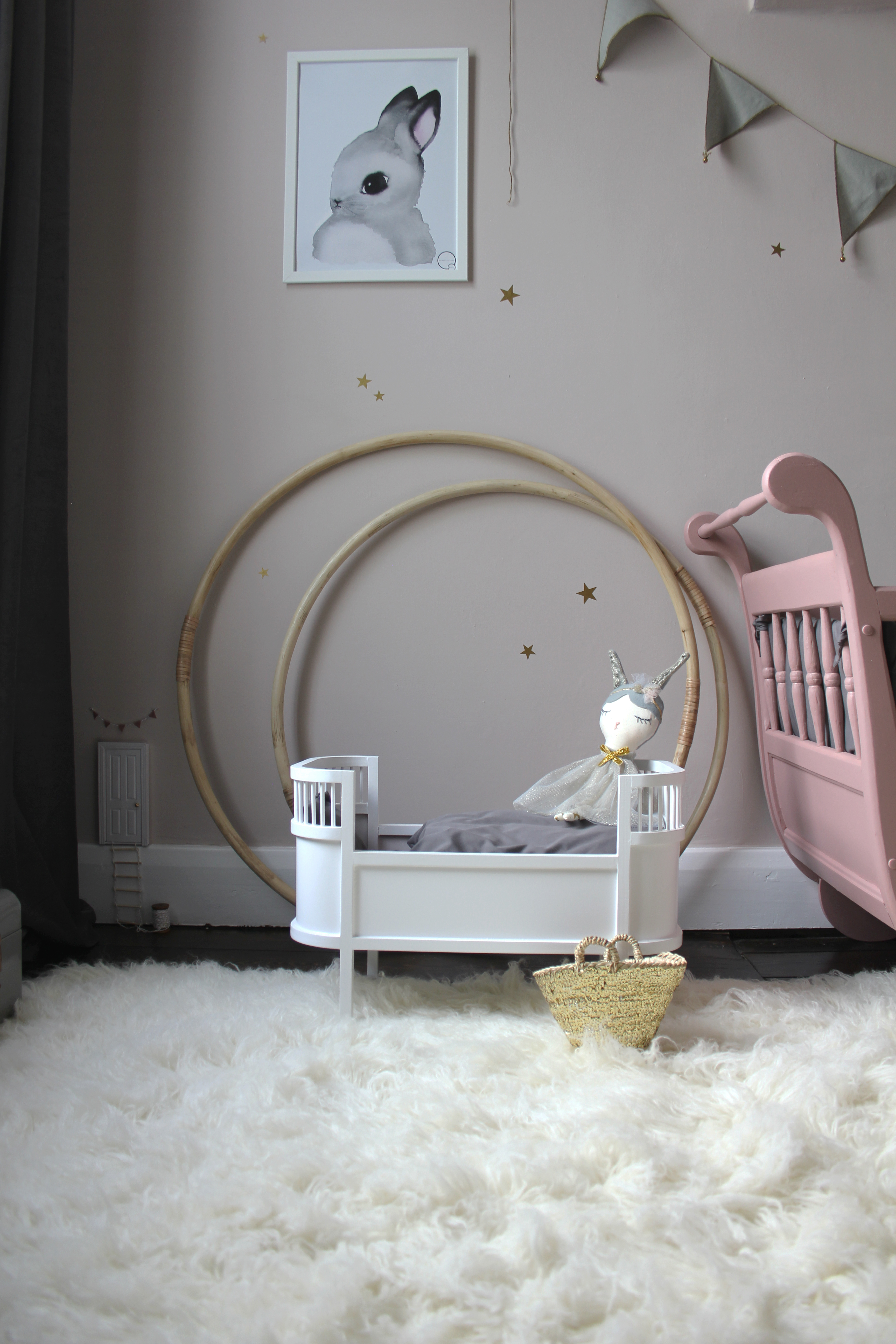 And look what is hiding in the corner...
Et regardez ce qui se cache dans le coin...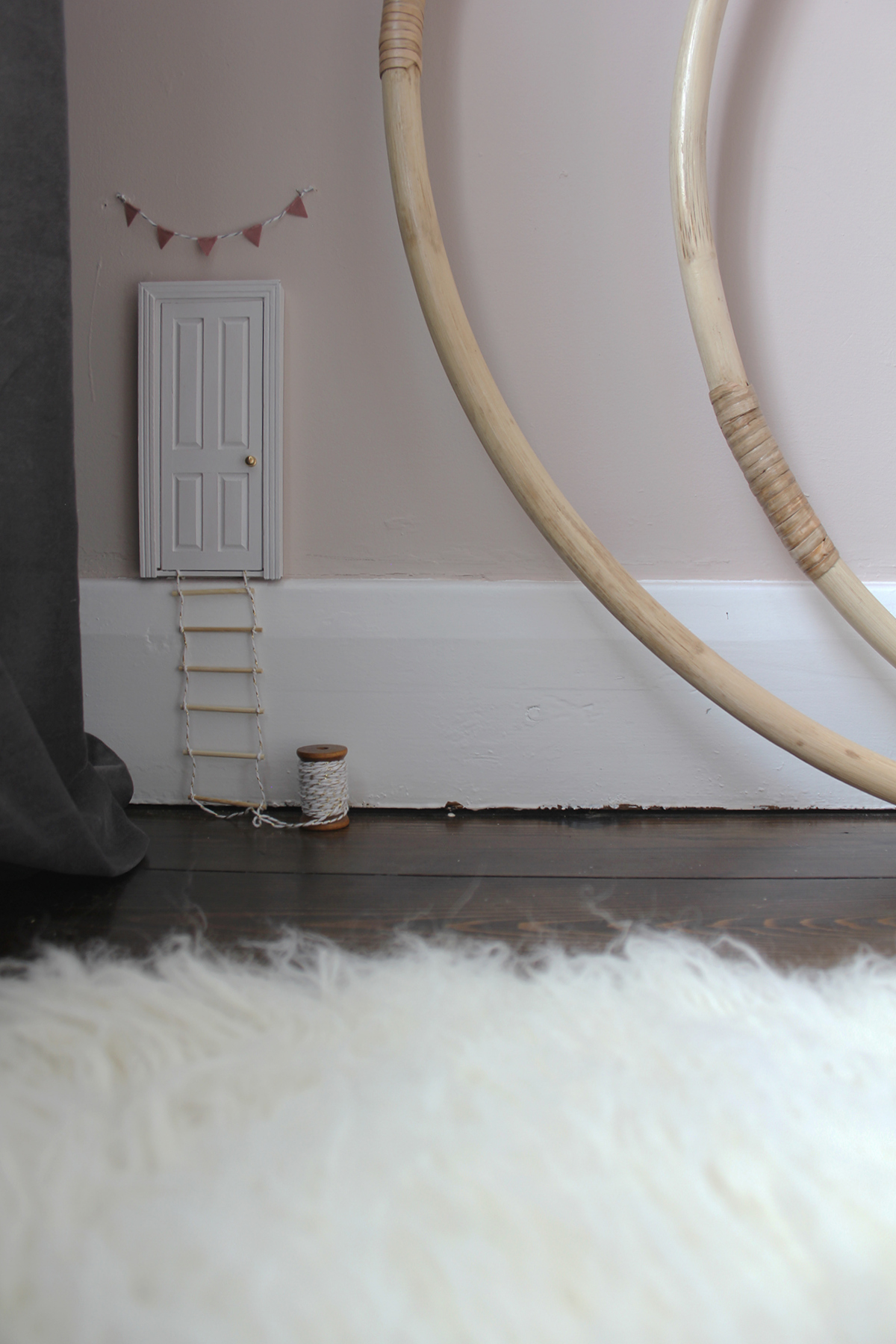 A little fairy door! A whole world of imagination and dreams for little ones!
Une petite porte de fée ! Tout un monde d'imagination et de rêverie pour les tous petits !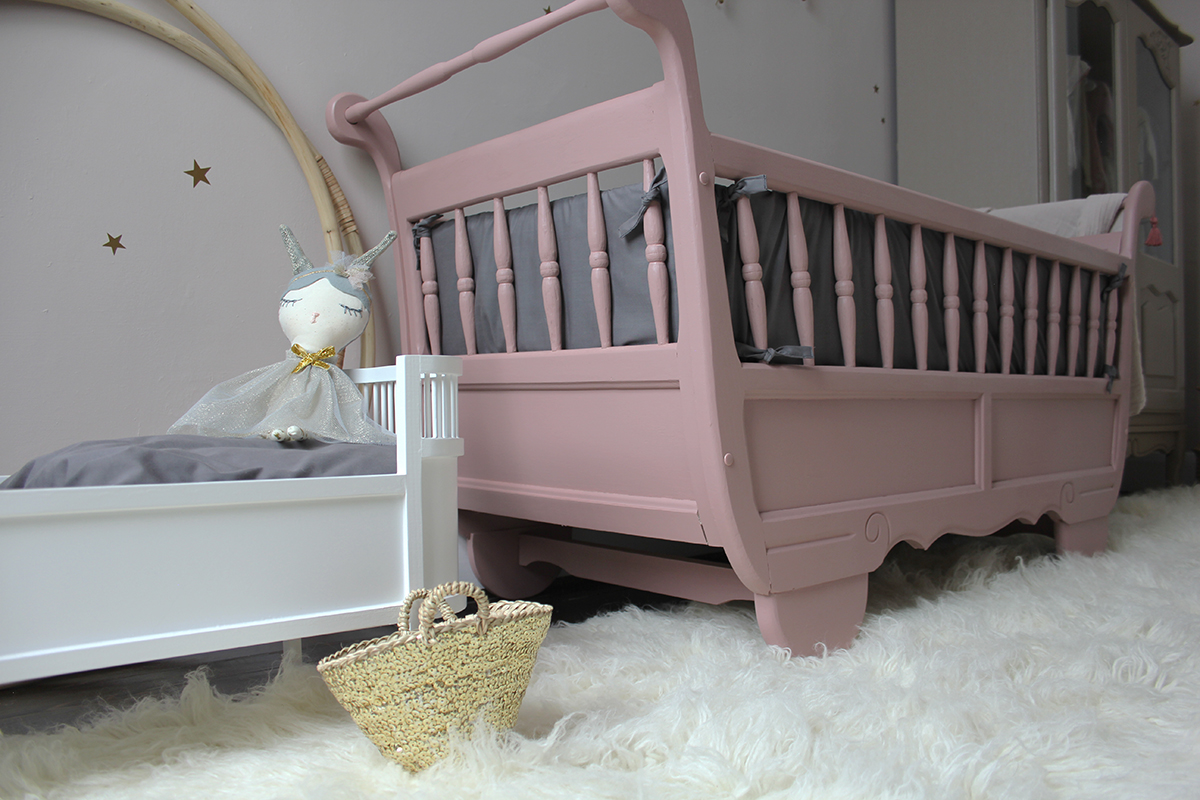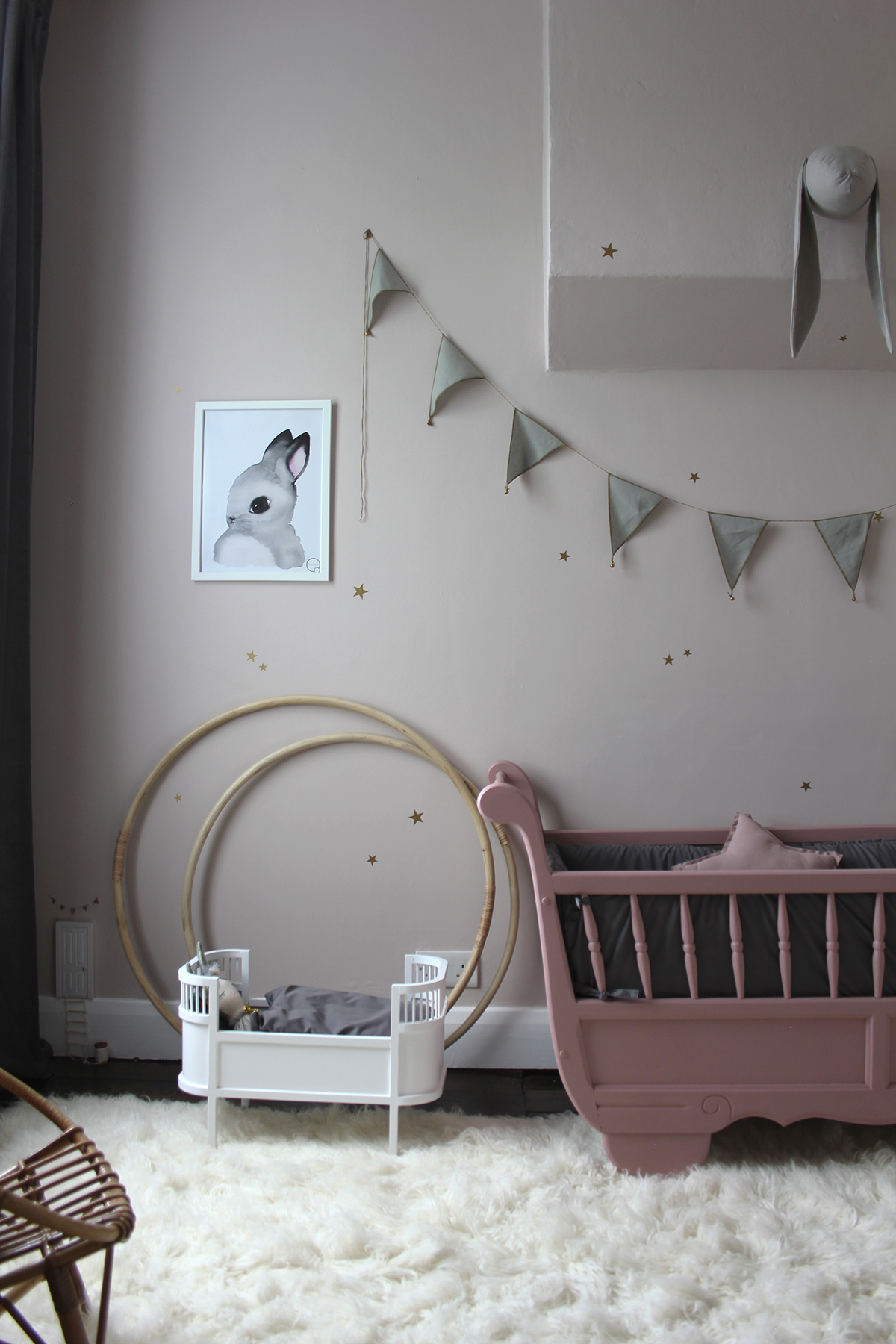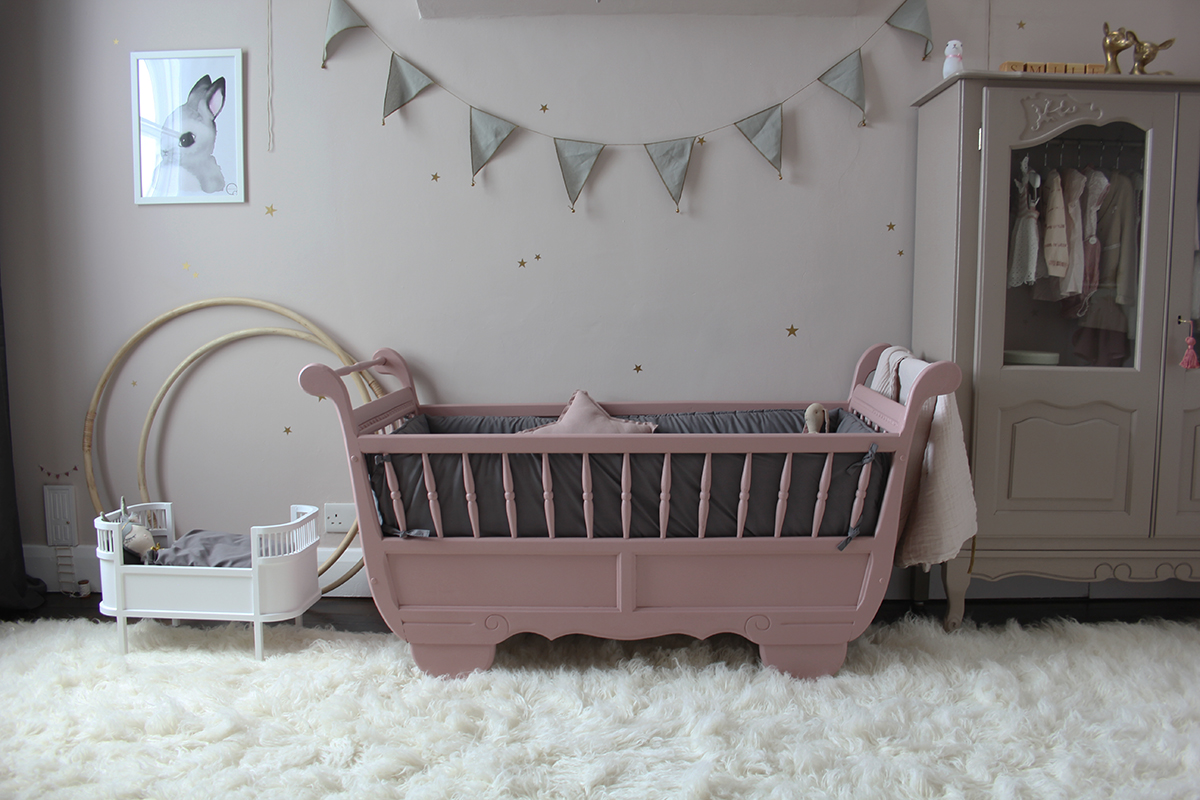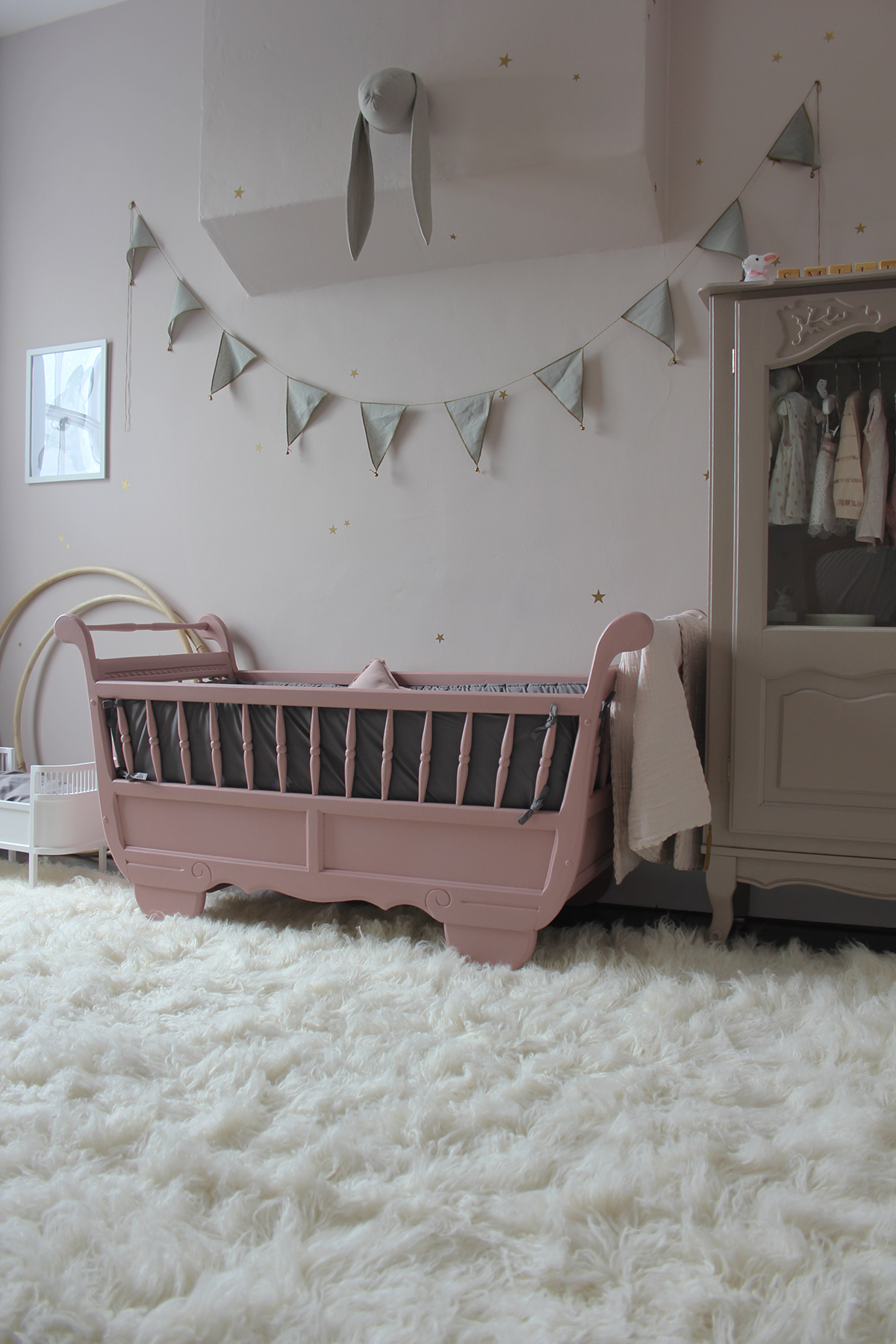 This wall mounted bunny head was my last minute DIY. It was the first time I made something like that so it's not perfect but I like it with those long ears.
Cette tête de lapin murale était mon DIY de dernière minute. C'est la première fois que je faisais cela alors il n'est pas parfait mais je l'aime bien avec ses longues oreilles.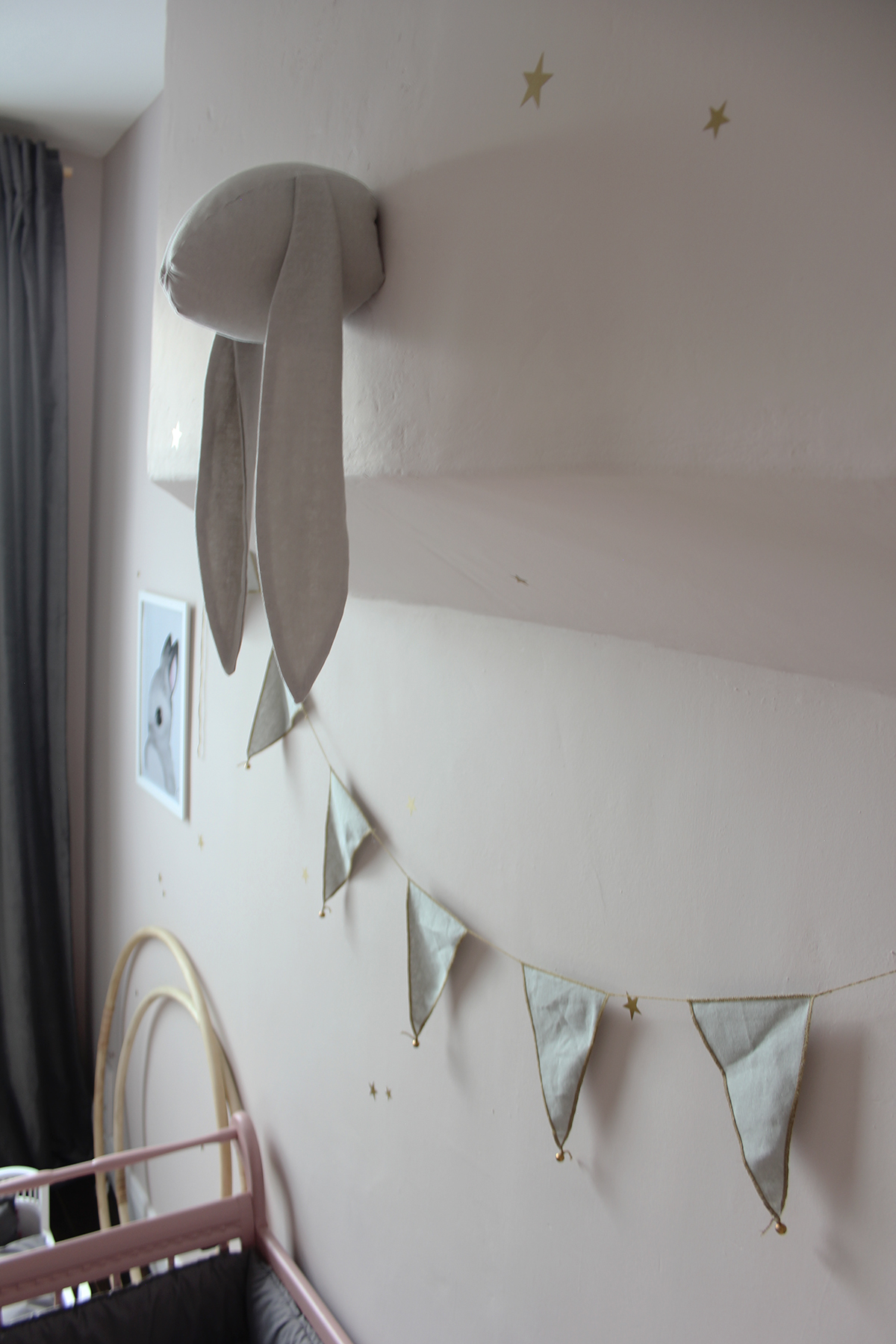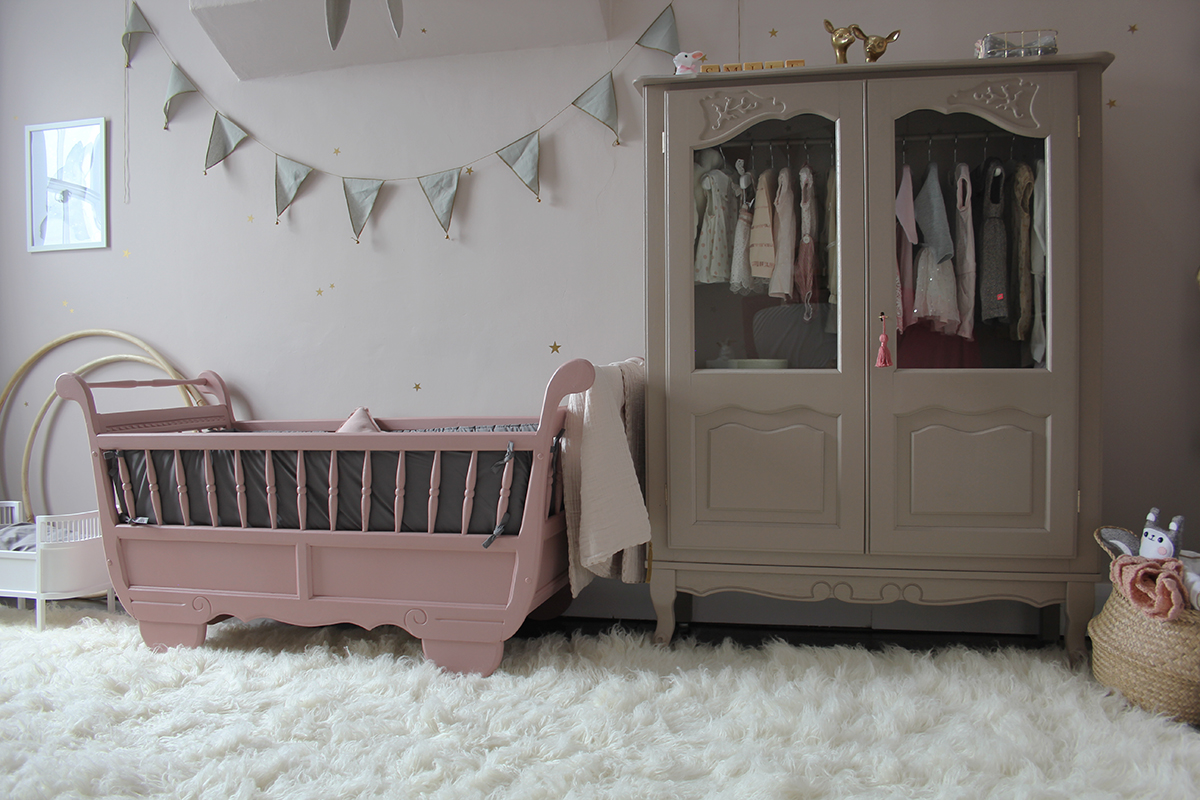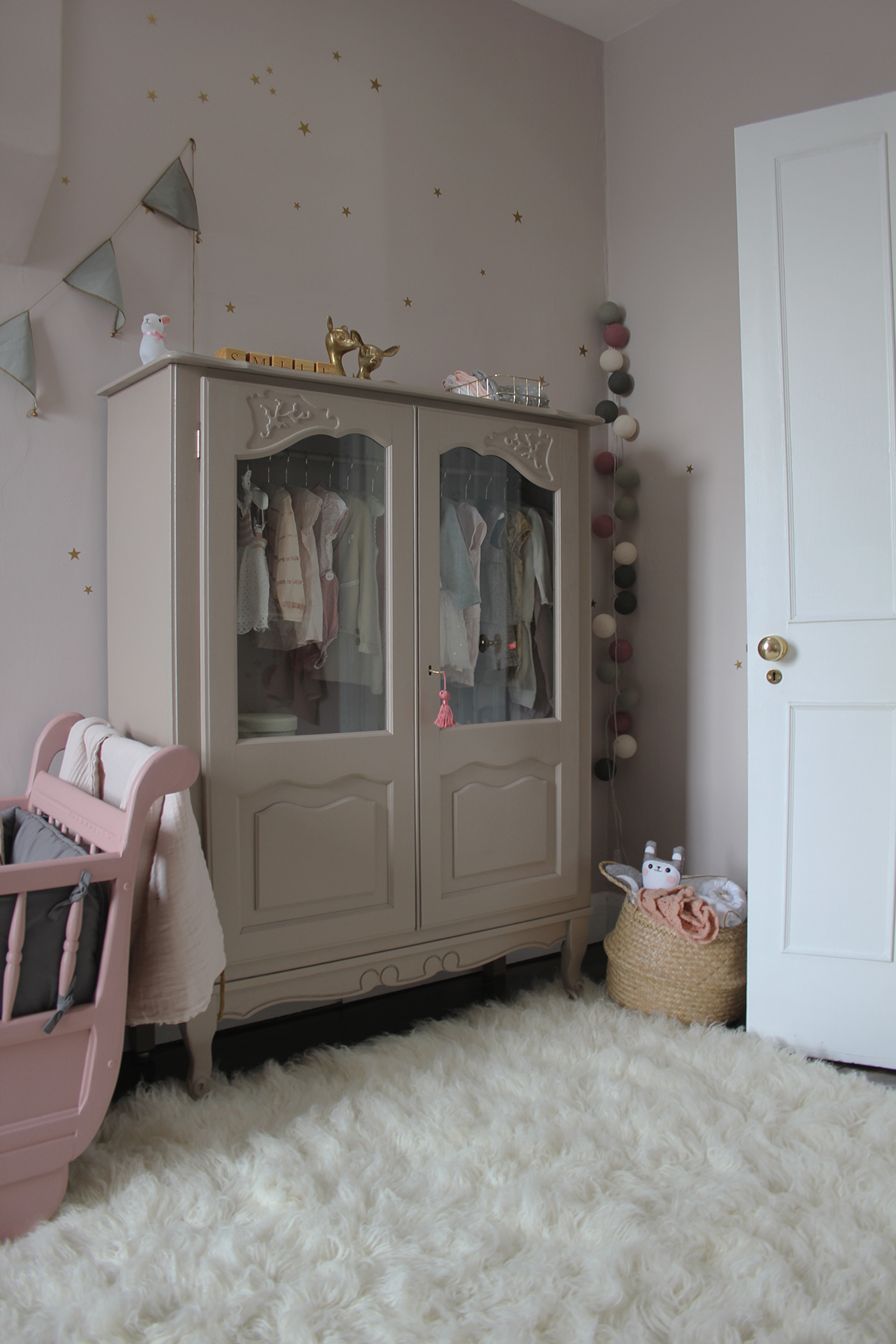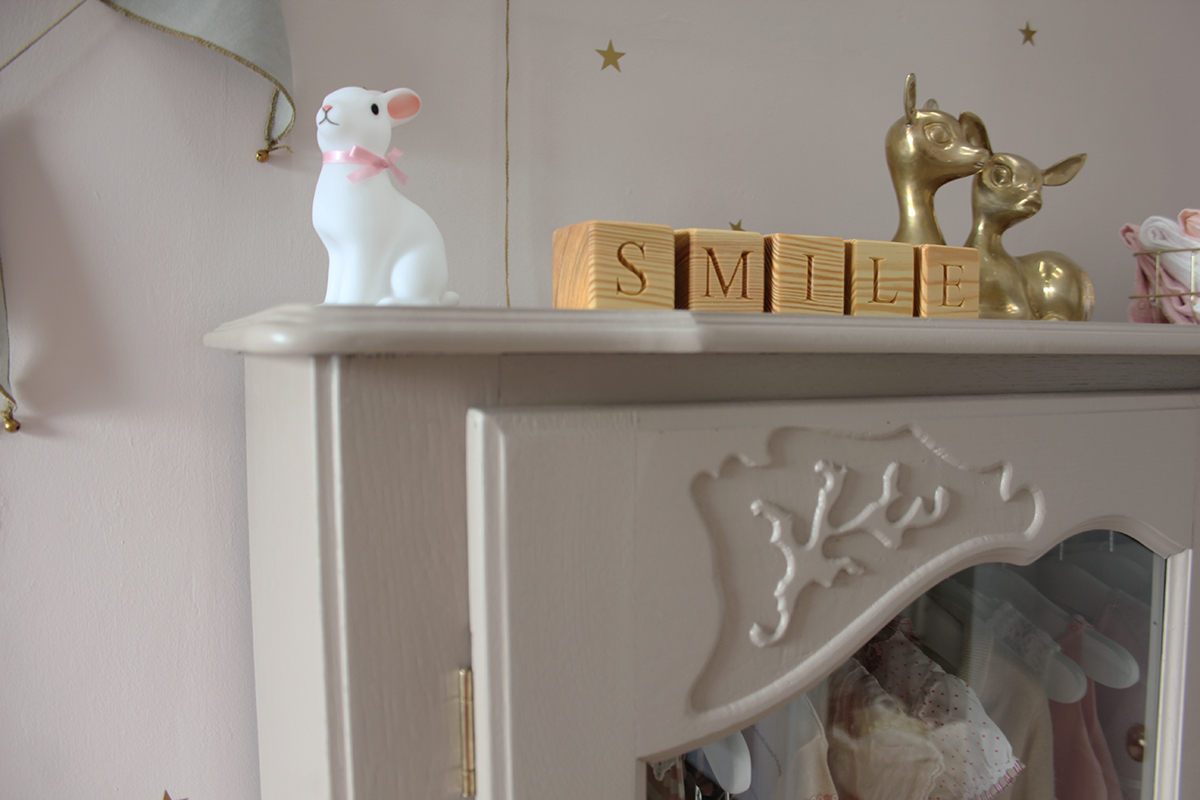 Well, that's it! I really hope you like my little angel's nursery and enjoyed following this makeover week after week. I will share all my DIY very soon and I will also make a post to source all the items I used here. Because I have to be honest right now my bed is calling me... It's weird because I am so tired and so excited at the same time. It was great to take part in this amazing challenge because it forces you to actually finish completely a room. And even if it was stressful it may sounds crazy but I loved it! So I really would like to thank Linda for organising the ORC and for giving us the opportunity to share our makeovers. I also would like to thank my friends and family for helping me. A very special thanks to my dear neighbours for being so patient! (Because sanding and spray painting makes noise and they never complained about it. So a big thank you for that!) And obviously a huge thank you to all of you for reading and following me during those six weeks! (And sorry if I didn't replied to your comments last week but honestly it was a crazy week and it was hard to find even the time to sleep...!)
Et bien voilà ! J'espère que vous aimez la chambre de mon petit ange et que vous avez également aimé suivre cette transformation semaine après semaine. Je partagerai tous mes DIY très prochainement et je ferai également un article pour vous dire où trouver les objets que j'ai utilisé. Parce que pour être honnête là tout de suite mon lit m'appelle... C'est bizarre parce que je suis si fatiguée et si excitée à la fois. C'était vraiment super de participer à cet incroyable challenge car cela vous oblige à vraiment finir complètement une pièce. Et même si c'était stressant ça peut sembler fou mais j'ai adoré ! Alors je voudrais sincèrement remercier Linda pour organiser l'ORC et pour nous donner l'opportunité de partager nos transformations de pièces. J'aimerais également remercier ma famille et mes amis pour leur aide. Un remerciement spécial à mes voisins pour avoir été si patients ! (Parce que la ponçage et le pistolet à peinture ça fait du bruit et ils ne sont jamais plaints. Alors un grand merci !) Et bien évidemment un énorme merci à vous pour me lire et m'avoir suivi pendant ces six semaines! (Désolé si je n'ai pas répondu à vos commentaires de la semaine dernière mais ça a vraiment été une semaine de folie et il était difficile de trouver ne serait-ce que le temps de dormir... !)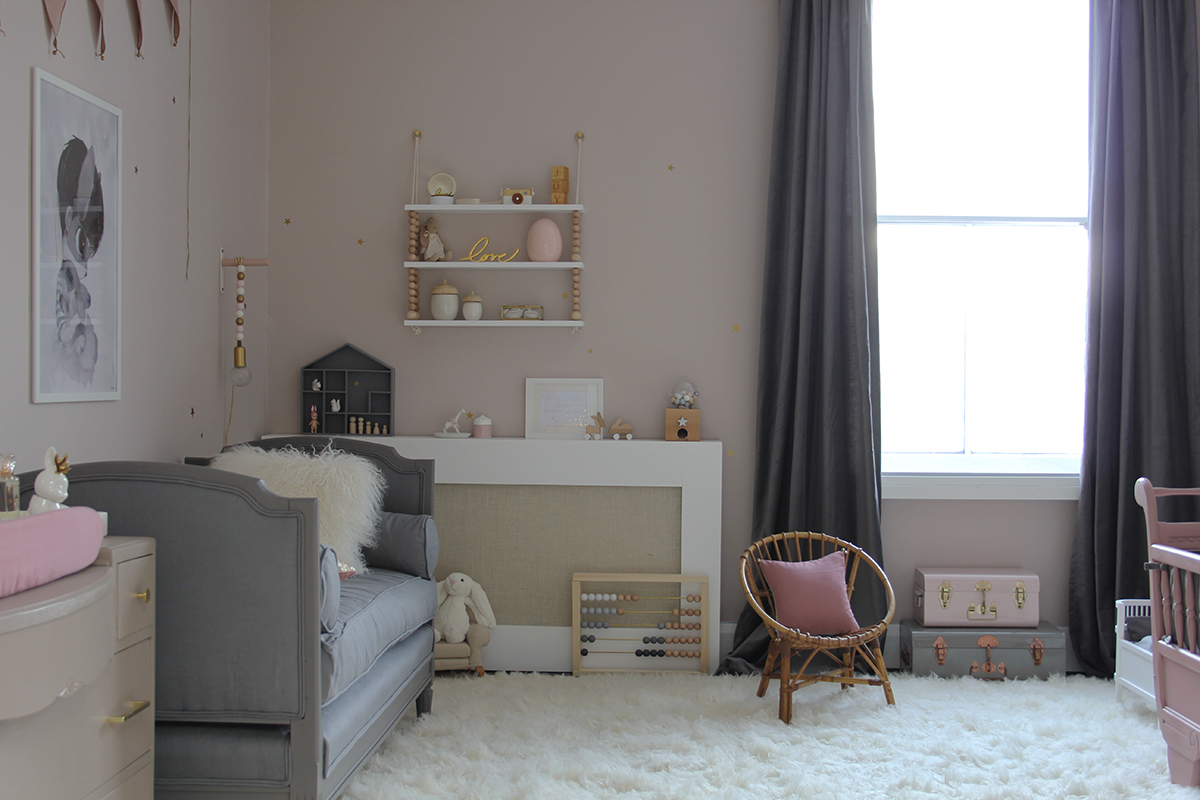 Now don't forget to have a look at the reveal of the other projects of the ORC Designers and the ORC Guest Participants right here.
XO
Maintenant n'oubliez pas de jeter un coup d'oeil aux autre projets de l'ORC Designers et de l'ORC Guest Participants juste ici.
Biz